There are a variety of sticker materials out there. The real question is what kind of material or format of stickers would be best suitable for you. Ensure a high impact on your business branding by choosing the best custom vinyl stickers. Easy application to curved surfaces, higher outdoor durability, and cost-effectiveness are the key points to consider before selecting these stickers. 
What Are Vinyl Stickers?
In simple words, a vinyl sticker is a decalcomania or decal, which can be transferred or moved to another surface on contact. It's usually transferred with the help of heat or water. A vinyl sticker is a design on special paper that can be transferred to another surface such as wall, glass, or porcelain.  
Vinyl stickers are also customizable. They come in various designs and formats ranging from die-cut custom stickers to value custom stickers, custom transfer decals, bumper stickers, domed decals, hard hat & helmet stickers, hang tags, and roll labels. 
Now, let's check out how to choose the best type of vinyl sticker for your business.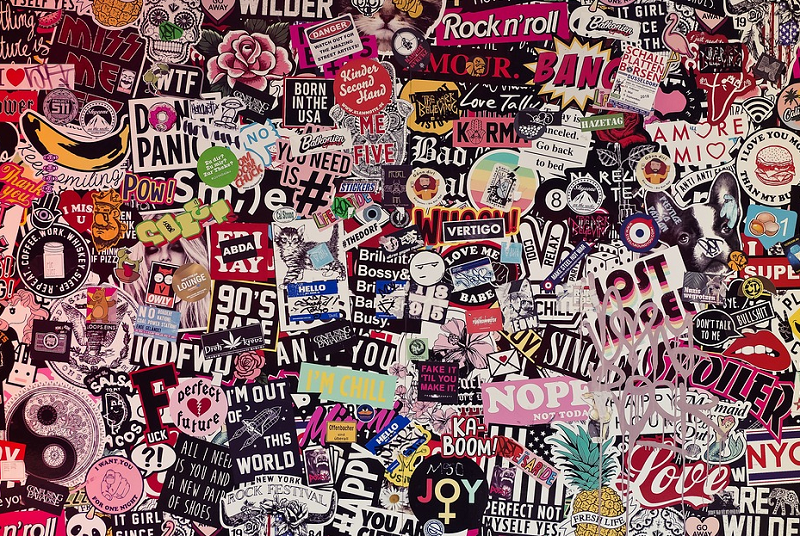 Die-cut Custom Stickers
Die-cut custom stickers are best when you want individual pieces of the design or a single piece to promote your advertisement or company. These stickers are easily cut into your desired design, shape, and size, making it one of the most customizable vinyl stickers. 
Rolls and Sheets
Rolls are the most popular to label your business or brand your promotional products effortlessly. Moreover, sheets are a great option for smaller quantity orders and giveaways. No matter what your business is, these vinyl stickers will effectively boost your brand image. 
White Vinyl Stickers and Labels
White vinyl stickers are considered best for outdoor use and promotional purposes. White vinyl is used in bumper stickers because it can withstand the rough usage. It's mostly used for sports equipment, jar labeling, and ceramic printing. White vinyl is considered to be dishwasher safe as well.
Clear Vinyl Stickers and Labels
Clear vinyl gives a certain elegance to any container where they are applied. Clear custom vinyl stickers are perfect for glass labeling and bottle labeling. Most of the phone cases also have these stickers as they are easy to switch out and remove. 
BOPP vs. White Vinyl Stickers
BOPP (bi-axially oriented polypropylene) and white vinyl stickers are considered the most versatile stickers and labels. They both share the same capabilities like appearance and water resistance and are refrigeration safe. However, BOPP material is thinner than white vinyl material, and also has a permanent adhesive and cannot be easily removed from surfaces.  
However, white vinyl material is easily removable and suitable for bumper stickers, swag stickers, window stickers, and sports equipment. 
Stick-on Tags and Labels (Permanent)
Stick-on vinyl tags and stickers are perfect for use on clothes and apparel, and with their super-gluey material, there is no need to iron-on these labels; you can stick them on permanently. These work as an alternative to iron-on labels. 
Follow these tips and promote your business with suitable custom vinyl stickers.