Recent press attention has underlined the importance of saving towards our pension. In Q3 2016, research from investment specialists and personal pension provider, True Potential Investor, found that the proportion of people saving nothing into pension pots dropped to 35%. It's clear young people's attitudes are changing too; Q3 2016 saw the number of 24-34 year olds making no pension contributions falling to 19% — down from 26% in the previous quarter.
However, despite more people saving towards their retirement, many are unaware of their options. In the report, over half (57%) of over 55s said they hadn't decided how they will access their savings. Clearly, education and knowledge will be key in the coming years to helping investors make informed decisions.
With this in mind, this article provides more information about how much you'll need and the different pension types.
How much will I need in my pension pot by retirement?
On average, we'll need £23,000 to live comfortably in retirement, True Potential Investor's research has found. Despite this, we are on course to receive just £6,000 per year from our retirement fund. In fact, the average UK person's monthly contribution to their pension pot is £325.
Your retirement can last for around 30 years, so it goes without saying that you'll need a substantial amount to sustain your lifestyle. Your age can naturally impact the overall amount you're able to contribute to your pension. The earlier you start, the longer you'll have to generate a large pension pot. If you start your pension in later life, you may find yourself putting away extra in order to make up lost time.
Personal pensions vs. workplace pensions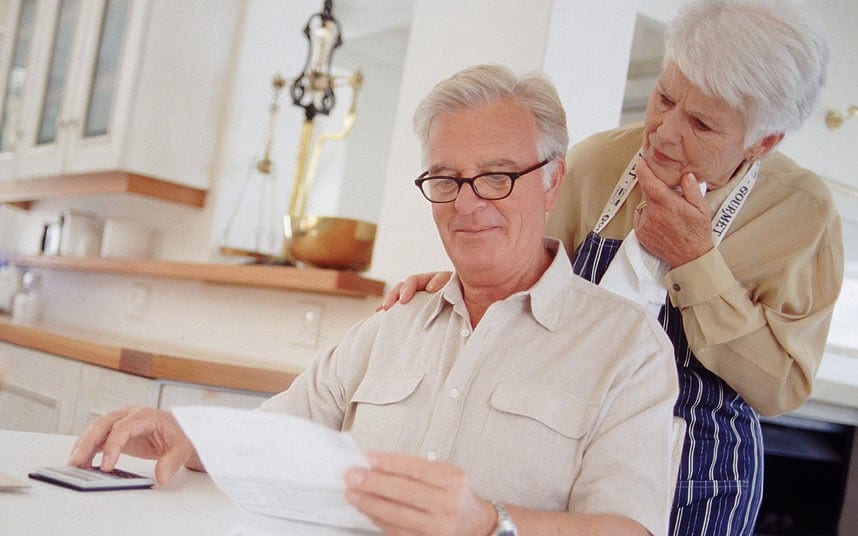 Here's how to understand the difference between personal and workplace pensions:
Personal pension
As the name suggests, a personal pension offers greater flexibility. You can contribute to it regularly or irregularly — it's completely up to you. Your contributions are invested with the aim of growing the fund over time before you retire. You can decide where and how the money is invested.
You'll only be allowed to invest up to £40,000 per year, although this will be influenced by your earnings. The current minimum age to withdraw your funds is 55 years. When you retire, you can use the amount to purchase an annuity, which is a regular monthly payment that's paid until you die, or take an income from this by using Drawdown, giving greater flexibility to how you use your pension.
25% of your pension pot can be withdrawn tax free. This can be either as one lump sum or multiple smaller withdrawals.
Auto-enrolment
Your workplace pension, on the other hand, is as you would expect arranged through your employer. You'll pay a portion of your wages each month into the pension pot, with your employer and the government also contributing.
At present, 2% of your earnings is the minimum contribution. This breaks down as 0.8% from you, 1% from your employer and 0.2% as tax relief. This will increase from April 2018 to 5% of your earnings (2.4% from you, 2% from your employer and 0.6% as tax relief). From April 2019, this will increase again to 8% of your earnings (4% from you, 3% from your employer and 1% as tax relief).
In order to be automatically enrolled, you must meet certain qualifying criteria. This includes being over 22, under the State Pension age and earning over £8,105 a year. Those who earn less, work on a part-time basis or are under 22 can opt in too, while you can also choose to opt out. By 2018, all employers must offer auto-enrolment to a workplace pension scheme or access to an equivalent scheme, such as a group personal pension.
Benefits of personal pensions
You'll receive tax relief on your personal pension contribution.
You can invest with the aim of increasing your overall fund.
They're useful for self-employed people, who don't have access to a workplace pension.
Benefits of auto-enrolment
Auto-enrolment makes it easy to join a workplace pension scheme.
You can invest with the aim of increasing your overall fund.
You'll receive contributions from your employer and enjoy tax relief from the government.
With investing, your capital is at risk. Investments can fluctuate in value and you may get back less than you invest. Tax rules can change at any time.
Sources:
http://www.telegraph.co.uk/finance/personalfinance/pensions/11986626/Surging-living-costs-leave-only-50pc-of-Britons-saving-into-pensions.html
http://www.thisismoney.co.uk/money/pensions/article-3326892/The-pension-pot-map-UK-revealed.html
http://www.thisismoney.co.uk/money/pensions/article-2599808/One-seven-people-retiring-year-ZERO-private-pension-savings-heavily-reliant-state-survey-finds.html
http://www.thisismoney.co.uk/money/howmoneyworks/article-3177112/How-money-need-save-pension.html
https://www.moneyadviceservice.org.uk/en/articles/automatic-enrolment-into-a-workplace-pension
http://www.bbc.co.uk/news/business-19589265
https://www.moneyadviceservice.org.uk/en/articles/the-benefits-of-automatic-enrolment