In the world of online media, advertising flags may have taken a back seat, but there's no denying their effectiveness for local marketing efforts. Be it setting up a shop, or leasing your apartment, these flags catch the eyes of the local audience and help boost your marketing campaign. But that is not all. Custom flags with compelling marketing messages go a long way to attract passers-by and help increase word-of-mouth promotion too.  
Let's give you a detailed overview of the benefits of these flags, as well as suggestions to do the advertising right.  
They are displayed 24/7
Once you set up the flag, it's going to be there for as long as you want. Unlike digital advertising, you don't need to rely on keywords to get more views (or leads). And there's no chance that the message you wish to deliver will get lost in the array of other advertisements.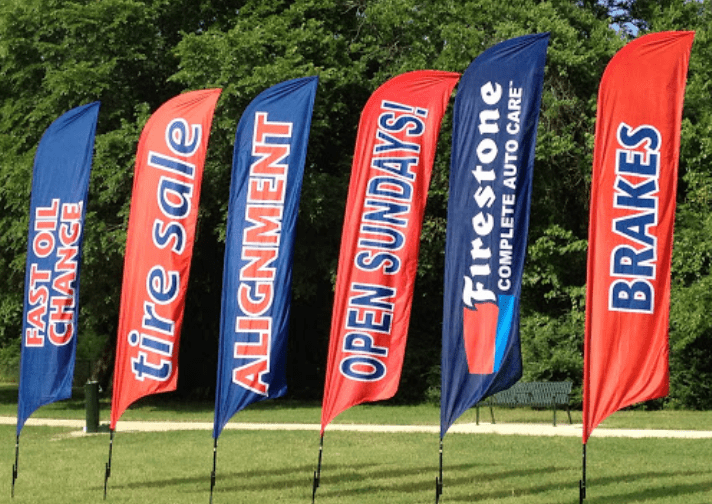 They are portable
You can change their position from time to time to get better coverage for your message. As they take up little space outside the building, you don't have to prepare the grounds much to accommodate them. Just choose the spots with maximum visibility and set them up.  
They can be customized
The custom flags are created with changing weather conditions in mind. They can tolerate all types of weather conditions, extreme cold or drought, without getting damaged. The online open flag experts opine that the message should be clear, no matter how much the flag flies. Some of them can also rotate in the wind, thus reducing the chances of toppling.  
How to make the most of your advertising flag
While the designers are going to have the end call, you can always offer your unique ideas to create maximum impact with the flags. The following suggestions may help: 
The concept of color
It's the presentation that matters in advertising, and the color is an important part of the same. You should go for brighter shades for the background and contrasting tones for the message to attract more eyes. Backgrounds in yellow, light green, blue, or baby pink will go best with darker fonts, and vice-versa. However, you should avoid darker shades, like black or navy blue, for the background, as they tend to absorb light instead of reflecting.  
Decide on the dimensions
Ensure proper dimensions while ordering custom flags online. Check the height charts and talk to the experts, if need be. When thinking of experimenting with shapes, go for popular choices, instead of rare ones that may not come out so well. Last but not least, check if the brand logo is properly visible before finalizing the design.  
How to take care of the flag
Read the washing instructions carefully, and machine wash only if necessary

 

Wash them in cold water

 

Don't add bleach while washing the flags

 

Fold them neatly and iron before setting them up to reduce wrinkles

 
These flags are quite environment-friendly too, as they don't waste paper and can be recycled. Most of them are more affordable than running full-fledged digital advertising campaigns. Hence, if you have a constrained budget, these evergreen flags can be a cost-effective choice for your local marketing campaign.