As grandparents, parents, elders – one of the things that we want most is to leave a better world for our children. However, a better world is only possible if the citizens of the world become better humans. In today's world of commercialization, our children are becoming self-centered and selfish. Since everything is available and often given, children are forgetting the art of being thankful or appreciative of what they have. Are we, then creating a better world for our children?  
We need to teach our children to be charitable humans – empathetic, caring, and generous. Remember, these children will inherit the world from us and the more number of better humans the better the world. Here are some tips on helping children become charitable and thus make their world a better place to live in. 
Charity is not a Punishment
Thanks to the numerous times it is used as one – 'community service or imprisonment', community service is seen as a punishment for a wrong done. But, is giving back to the community really a punishment? We are guilty of doing the same thing. "Pick up your toys or I will donate them to charity" – really! We have just made charity into something that is unpleasant and takes away from us. Wouldn't it be far better to explain that toys lying around could get broken or lost? Remember, a child's mind is like a sponge – it absorbs everything that comes in its path.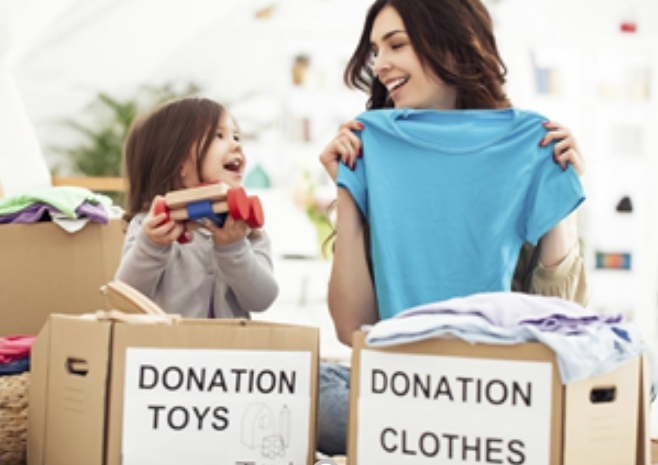 Set an Example
While the saying, 'Let your left hand not know what your right is giving', does hold true; with children, you need to make an exception. Your child should know every time that you do any charity – be it monetary or otherwise. Carol Weisman from Board Builders (http://boardbuilders.com/) says that raising charitable children is a powerful way to influence change in the world. Explain the reasons for your actions – your child should understand why it is important to be charitable and the various methods that can be used for being so.  
Learn to use the correct terms for charity – give, donate, volunteer – making it sound like work will not help. Children believe in what an adult's value – show them that you value charity rather than making it a routine job that needs to be done. Talk about the actions of your children as they do charity – make them feel proud of their contribution to a better world. 
Make Charity a Regular Affair
Taking part in volunteering activities once or twice a year, giving to charity on Christmas – these are not enough to help develop a charitable mindset in the children. Find ways to let the children give to charity on a regular basis. It could be making a batch of pies for the lonely man down the street or helping other children with their studies to visiting old age homes once a week – anything that gives them an opportunity to feel good about what they have done.   
Children learn better from doing things rather than just reading about it. Repetitive charitable actions reinforce their experience and help develop a charitable mindset and spirit. That is the way to help your children make this world a better place.