Fly tipping does not always occur on roadsides, back alleys, and parking lots. Some fly tippers actually discard their illegal rubbish in private rubbish removal bins. They are especially attracted to large communal rubbish removal bins found at flats and businesses.
A large pile of old used tyres were recently fly tipped into communal rubbish removal bins for thirty flats in Eskdale in London Colney. This is the jurisdiction of the St Albans council which reports this is an all too common occurrence. Also fly tipped were a mattress, several kitchen appliances, and furniture. The bins were so full the residents of the flats could not even put their normal household rubbish removal sacks into the bins.
A lesson can be learned from this particular incident of fly tipping. It seems the communal rubbish removal bins in this particular situation are not in sight of many of the flats. Fly tippers probably assume this is a good spot for their crime since the likelihood of someone seeing them, and being able to collect their vehicle plate number or other identifying information, is rather small. It's fly tipping with impunity!
While residents may not want a "view" of the communal rubbish removal bins, it would be a strong deterrent if more people could see the bins from their flats. Alternately, closed circuit cams could be installed high enough that they could not be easily taken down or covered up but easily seen. A large sign could be added that read that all fly tippers would be prosecuted to the fullest extent of the law! This might make a fly tipper think twice since they are looking for the lowest hanging fruit in terms of where to illegal fly tip their goods. They pick their spots where they think no one cares and they won't get caught.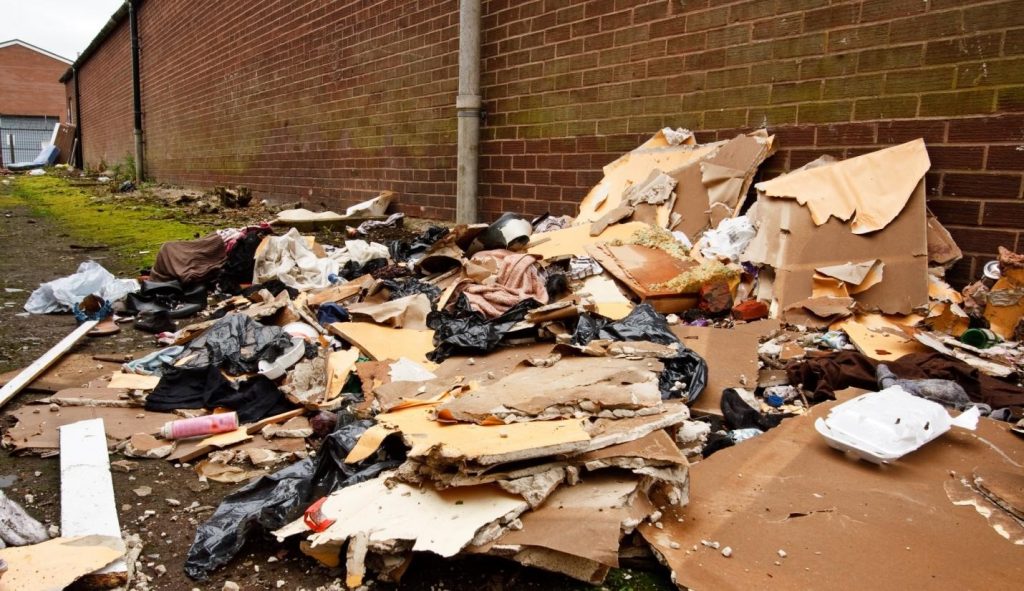 Businesses across the UK have this same problem. Their extra large rubbish removal bins are mighty tempting for fly tippers. Even with the installation of close circuit cams, fly tipping of rubbish removal in large business bins, especially in shopping centers where the bins are extra large because they are shared by many businesses, is on the rise. While the police cannot really afford to stake out rubbish removal bins, they may have to do so to catch these fly tipper in action. Perhaps the extra cost to do so could be passed on to the fly tippers who get caught in terms of fines and community service. The cost of stake out could be justified even more if a press release of the fly tippers getting caught, including dramatic pictures, were widely circulated as this could be a major deterrent and actually stop other fly tipping incidents before they begin.
In October 2016, the Guardian put out a call for pictures of fly tipping. They received back an avalanche of pictures and reported that forty percent of UK fly tipping occurred in London. In fact, on the east side of London, there was a massive twenty foot tall "graveyard" for fly tipped refrigerators. It seems journalists could do a good deed here and stake out such notorious fly tipping hot spots, document the crimes, and start naming and shaming on their new broadcasts! It's the kind of sensationalist news viewers would tune in for so rating would surely be high.
Sometimes you have to look at what other countries are doing to get good ideas for your own country. In Germany, one day a month, citizens are allowed to put any rubbish removal they want on the side of the street. Then, other citizens are allowed to take whatever they want! It works something like the website, Freecycle, only up close and in person! It must be great day to get to know your neighbors better too as you rummage through other people's junk in hopes of finding a treasure. Most importantly, if the UK were to have such a day, it might curtail the "need" for fly tipping.
Fly tipping into litter bins has become a problem in many areas too. Whole bags of household rubbish removal are frequently found in public litter bins along walkways and in parks. It is not uncommon for bin men performing their waste removal duties in these public areas to find rubbish strewn all around the litter bins because they have been filled to the brim by fly tippers with illegal rubbish removal.
If you happen to see someone loading up their vehicle with rubbish, and you suspect they're going to fly tip it somewhere, perhaps in rubbish removal bin intended for other people, you may want to casually mention how reasonably priced Clearabee's man and van service is or how they could also order a Beebag and fill it. Clearabee has made it very convenient to have a custom pickup of any type of rubbish removal so there really isn't a logical reason to risk getting slapped with a huge fine for flying tipping.