Ecosustainability, environmental respect, energy saving, are not just terms and concepts that are typical of a residential or industrial sector, but also offices, today more than ever, are involved in these issues.
Working in a green office is a way to get better and work more productively. Let's find out how it is possible to build, renovate, furnish, live in an office with clear ecological characteristics.
Energy savings in green offices
A green office must be defined as a work office in order to have a strong propensity to save energy, by constructive optimization or in any case by implementing the various modernizations made over the years.
Safeguarding energy, limiting dispersion, optimizing resources are operations that can be carried out by intervening not only in terms of thermal insulation, but also in the choice of energy sources with a particularly saving vocation.
– Thermal Insulation: thermally insulating an office is possible both in the construction phase and also, partially, in the restructuring phase, through the use of materials and panels capable of minimizing heat dispersion and heat exchanges in general, between internal and external environment. Materials such as wood, timber, cardboard, rock wool, but also synthetic elements such as polyurethane foam or polystyrene foam, contribute to improving thermal insulation. The same applies to the windows and doors: having quality windows, capable of raising the energy class of the building, is certainly an advantage.
– Energy saving: an office is characterized by different workstations that more often than not see the contemporary work of employees, managers and personnel in general. Setting up a low-consumption lighting (for example LED or energy saver bulbs), allows a considerable saving of energy and therefore money in the bill. Another way to make green the office is to avoid leaving unused devices such as photocopiers, printers and computers: better to set the stand-by in case of temporary non-use.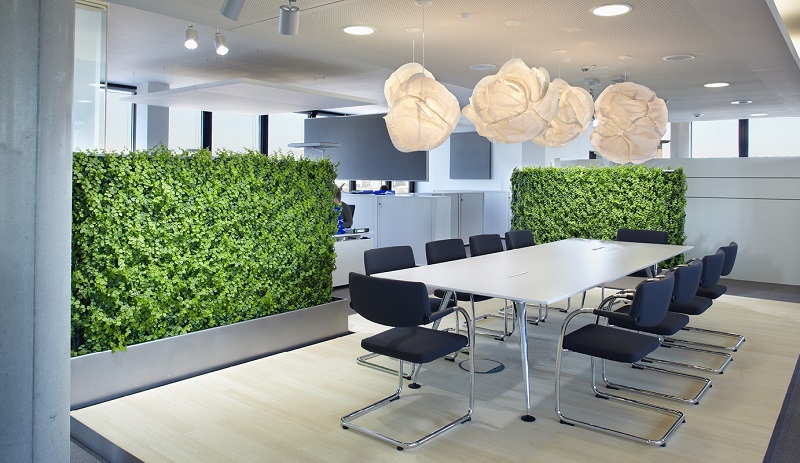 Coworking to improve the green aspect of the office
Sharing a work space has several advantages, including optimizing resources, reducing waste, creating structures like the ones offered by SciCorp.net. A work environment recreated in an intelligent and shared way, allows to maximize the yield of the tools available, placing, in favor of the occupants, an efficient and always updated position. Sharing means benefiting from a single printer, a single computer, a single telephone, a single desk, but above all a single heating system and a single lighting.
In order to have the best, it is necessary to organize well, to make the times coincide and to adjust accordingly. You need a manager who is not only able to manage the organization of shared spaces, but also has a thought projected to the green aspect. No large structures are needed, as it is possible to apply coworking even in offices that are certainly not too large, making them environmentally friendly and environmentally sustainable.
Low impact technology
Who said that the technology is not compatible with an eco-sustainable office? The market offers computers with low environmental impact, printers whose work is aimed at saving consumables and whose construction is environmentally friendly, not only as a function and as inks, but also as a value of harmful emissions in terms of electromagnetic waves.
Some major companies have a product line dedicated to respecting the environment. Furnishing solutions offer valid possibilities for having anatomical workstations, designed for the well-being of the worker, perhaps by inserting the laptop inside an adjustable part in order to make it easier to use. Even the chairs are equipped with technology thanks to ergonomic and ergonomic design and profiles.
Don't forget some additional actions that can be taken to make the office even more green. Like vehicle sharing, for example. Gathering more people to travel in a single car to reach the office can be an effective way to reduce the toxic gas of cars. Also, the route employees take to reach the company is another important point. Consider software like Mobilizz to optimize safety and route tracking.