At the end of the year, many places see their share of snowstorms and ice. While November and December can be a time when many places get snow, it's only the beginning. 
In a lot of places, the weather in January and February can be even more treacherous. Keeping your warehouse safe during winter means having the right warehouse shelving and undertaking some precautions. 
Maintain Recommended Storage Capacity 
Many warehouses are the busiest during the winter months, as you are getting a lot of products to keep up with the demand. You may have the temptation to place the extras on your warehouse shelving. Still, to prevent damage to your shelves, or the possibility of the added weight causing the shelving system to fail and collapse, you need to maintain the recommended storage capacity.  
Taking a moment to inspect the shelving systems every once in a while is recommended to ensure they aren't overburdened. If you notice any issues or shelves that have too many products, it's in your and your employees' best interest to move these items to another area. You might consider adding more shelving options to your warehouse, as this is the best way to keep it safe during the winter. 
Keep it Clean 
Not only does winter bring snow and ice, but it also has its share of mud and other debris. When your employees and equipment are moving products in and out of the warehouse, they can track this filth on their shoes and the tires of the equipment. Snow can melt into puddles, which can be incredibly slick, and mud makes your warehouse look terrible. 
Take some time each day to clean the warehouse. In addition to removing puddles and other debris, it's also a good idea to make sure that tools and any other clutter are picked up to reduce the risk of injury from slipping and tripping hazards.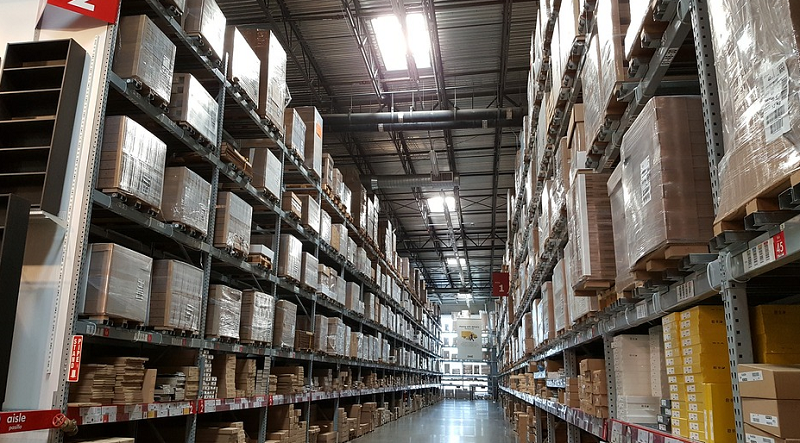 Inspect and Maintain Your Equipment 
As mentioned, your warehouse equipment will probably be moving in and out of the adverse weather conditions this time of the year, and this can take a toll on how it runs. Exposure to dirt, salt, and other chemicals can have a corrosive effect on your forklifts, and snow melts into water, which can lead to rust. 
To keep your equipment running correctly and to save you replacement costs, make sure you are inspecting and maintaining your equipment regularly. Doing so might require wiping it down at the end of the day or covering it to keep it from being exposed to the cold weather. No matter which option you choose, this can prevent expensive damage from occurring. 
Indicate Hazard Areas 
During the winter, there will be parts of your warehouse that will become more hazardous, including areas near the loading dock or doors where people and equipment can track in the snow. Make sure these are adequately marked so that people know to exercise caution when moving through these areas. This practice can reduce injuries and keep your warehouse running smoothly. 
Winter may have already begun, but it's not too late to find ways to keep your warehouse safe during this time of the year. Keeping winter safety processes in place can reduce the number of injuries and prevent damage to your warehouse shelving and equipment, saving you time and money.