The internet is full of opportunities and if you are passionate enough, you can set up a profitable business building a website.
Affiliate programs are one of the most popular ways to monetize traffic and earn money by promoting other products or services.
Once one of your visitors complete a purchase using your affiliate links, you gain a commission.
If you are in the payday loans niche and you want an additional way to make money, then LeadsGate may be the perfect solution.
Introducing LeadsGate Affiliate Program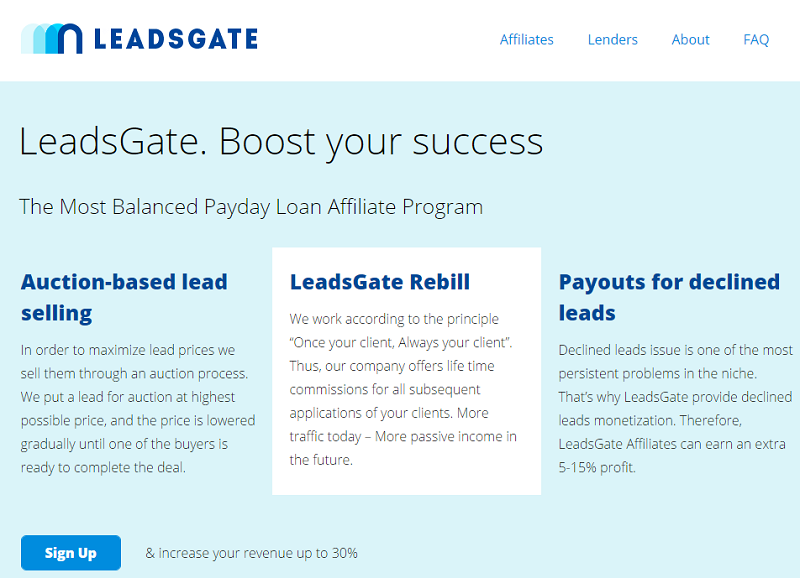 LeadsGate is a professional affiliate network for advanced webmasters.
They put you, as affiliate, at the center of everything they do: creating a fair and comprehensive offer, so to motivate steady progress.
This affiliate network offers different lead programs related to payday loans. They have a big amount of lenders, so they can sell your leads at peak prices and maximize your earnings.
This is great if you need another source of income from your site.
LeadsGate unique features help to boost regular earnings and get extra bonuses:
Auction-based lead selling: in order to maximize lead prices, they sell you leads through an auction process.
Advanced lead optimization technology: an in-depth analytics dashboard to check real time how things are going.
LeadsGate Rebill: you'll have life time commissions for all subsequent applications of your clients.
Payouts for declined leads: through this feature, you can make an extra 5-15% profit.
Flexible Referral Program: there are many opportunities to earn more.
How to Get Started with LeadsGate Affiliate Program
All Affiliates (US based and non-US based) can apply for a membership in LeadsGate Network.
There's a great team of dedicated account managers and technical specialists, who provide professional and compliance support and help to solve any of your needs.
Visit this page to request the registration. Fill all the fields and account manager will review your application and approve it.
Once done, you can enter your LeadsGate dashboard.
Here, visit the "Offers" tab to grab your affiliate links and add them into your website.
You just need to drive traffic to the provided link and if your audience will complete the action, you will get paid.
There's an advanced analytics section you can use to view, real time, how your traffic is converting.

Benefits and Payments with LeadsGate Affiliate Program
LeadsGate affiliate program gives many benefits, like an high conversion rate and a customized payment option.
They pay up to $220 per on CPA basis and you can request payout once you reach $100 threshold.
Be sure to set up your payment settings: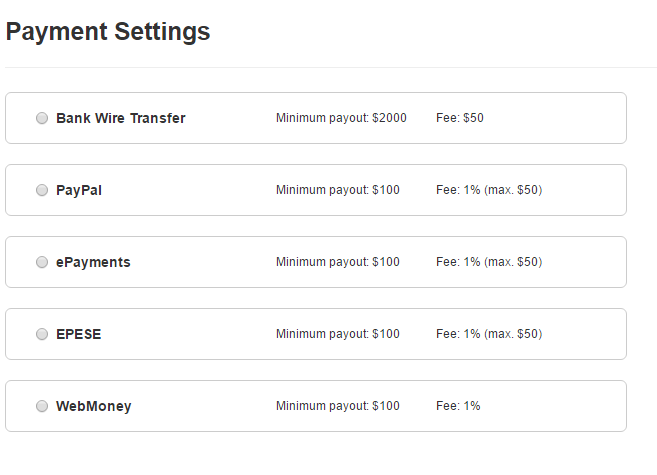 There are many options to get paid:
Bank Wire Transfer: minimum payout: $2000 (fee: $50).
PayPal: minimum payout: $100 (fee: 1%, max. $50).
ePayments: minimum payout: $100 (fee: 1%, max. $50).
EPESE: minimum payout: $100 (fee: 1%, max. $50).
WebMoney: minimum payout: $100 (Fee: 1%).
And if you are worried about security and privacy, keep in mind that they are guaranteed. Information that you provide are available only to your Account Manager.
Final Words
LeadsGate can become your main source of income, if you have quality traffic and a you have built a great website in the U.S. payday loan niche.
If you want to learn more about their affiliate program, visit LeadsGate FAQs section here.
What do you think?
Are you going to try LeadsGate.com ?
Please share your views in the comments below.