From looking out for recipes to taking million dollar decisions, everyone uses the internet in each aspect of their life nowadays. Digitization has reached a different level altogether, and for every tiny thing we refer to one of the thousands of encyclopedias available on the internet. So how does one maintain the stability of their encyclopedia over the web? It goes without saying that they need to have the support of the most reliable hosting partners who would ensure 100% uptime for their website.
Today, I take this opportunity to review my hosting partners so that you are also aware about the splendid services they offer and can decide for a change if your hosting partners promised you loads and never delivered. Let us look into detail more about MediaWiki and how can it be beneficial to you.
What is MediaWiki ?
It is a free software opensource wiki package basically written in PHP. Initially designed for WikiPedia, it is now also used by several other projects of the non profit Wikimedia Foundation as well and by many other wikis, including MilesWeb, the home of MediaWiki.
MediaWiki is a wiki engine, used by WikiPedia and many of the other projects of Wikimedia. Being used extensively around the world for many projects and by many firms, MediaWiki is a free tool and open for others to use and improve.

What is MediaWiki good for ?
If you are a bunch of people (be it 4 or 100s of people) looking forward to host your articles , MediaWiki can prove to be a really ideal solution.
MediaWiki allows a user to add and edit the text within the pages and also insert images in the document accordingly. All the other edit and add functionality can also be done externally as well as within the wiki. This all can be done with the use of simple 'markup' language which translates the characters to the different form of formatting as required.
By now, you would have got a fair idea as to what is MediaWiki and how beneficial it can be for you and your firm. Now let's dig more in detail into the services rendered by MilesWeb, one of the most promising providers of MediaWiki Hosting in today's market in order to review them.
MilesWeb is a fast growing web hosting company looking forward to providing the customers affordable web hosting solutions without compromising on the quality. With just around four and a half years of experience, it has strongly emerged as a big competition for many web hosting giants. Having it headquarters in Nashik, Maharashtra it has servers located all round the globe to ensure customers get maximum value for the money they invest.
MediaWiki Hosting Features offered by MilesWeb : 
Managed MediaWiki Hosting : The managed services offered by MilesWeb have been built on special software and hardware to make sure that the website and applications hosted run fast and most securely. 
Completely Secure : Security is one aspect that you look into at the first place before choosing a web host as you will have many secure transactions and documentations done over the web, this is one aspect that can never be compromised. With MilesWeb, you can be assured of having the strongest security. The periodically scan your website for malware make sure that they prevent the site from the risk of hackers. If you have a malware present in the website, they do not charge you a penny more to remove it. 
Comprehensive Support : Support is the back bone of a web hosting firm. The support executives have thorough knowledge of CMS and eCommerce. Any query arises you can feel free to ask them 24*7*365.
Built for Speed : MilesWeb has robust servers and built for providing the customers with the best server performance. The server configurations that they use are incredible and designed in a way to speed up load times. 
Amazing Addons : You will be provided with access to a wide range of free eCommerce and CMS templates, plugins and themes to make your website more impressive. Also if you plan to install custom themes, the support team is friendly enough to help you in setting it up. 
Automatic Updates : Majority of eCommerce and CMS software are tested and implemented. PHP, MySQL and other components are also updated timely in order to ensure that users get the best performance.
Regular Backups : To avoid the risk of loss of any data, they offer daily backups. Also, Real time monitoring is offered to ensure optimum security.
Instant and Free Setup : You need not wait for long after signing up for the package. With MilesWeb, you will have your website setup done instantly and you can start with your MediaWiki website. No charge is incurred for the process.
Wiki Compatible Hosting : This is also one of the important factors to be considered when you sign up for Wiki Hosting. The hosting packages offered by MilesWeb are compatible with DokuWiki, WikkaWiki, MediaWiki and PmWiki. You also have the facility to install the latest versions using Softaculous.
The various packages offered by MilesWeb are listed below :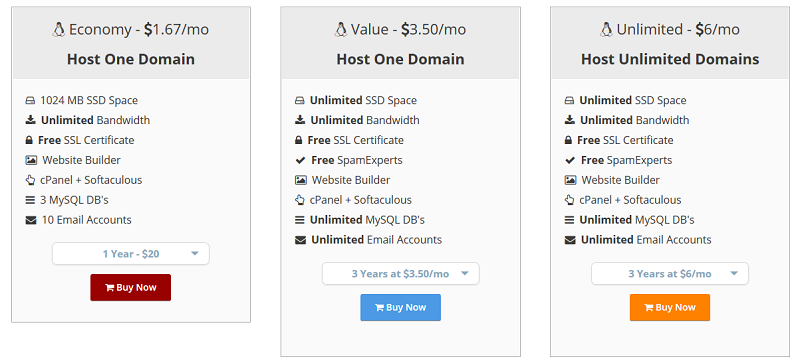 Conclusion :
Offering these many features at such a competitive pricing, MilesWeb should definitely be your first choice when it comes to any Wiki or DokuWiki Hosting as mine. I can tell you from my experience that you can be assured of 99.9 % uptime and great customer support coming from the highly experienced and professional executives. You can initially start with a small package and as they instill the trust in you providing their quality service, you can upgrade to a higher plan.
If you are the one who has fallen in prey of some web hosting firm boasting of offering these features, but never delivered, I believe it's time for a change !
Let's GO MILESWEB together !
This is a contribution by Paul Rodricks