Do you sometimes wish there was a way that you could convert the formats of your videos, to make sure that they're compatible or perhaps even compress them? Being able to convert videos will give you a lot of flexibility, and in the long run will be a lot more convenient.
As much as the idea of converting videos may seem complicated, the truth is that it doesn't have to be. In fact if you use Movavi Video Converter you can easily switch the format of your videos, and it won't take you more than a minute or two to set up and start the conversion.
Assuming you would like to convert a video, start by launching Movavi Video Converter. In the upper-left side of the interface you'll see a button labeled 'Add Media' and you should click on it then click 'Add Video' and select the video that you want to convert. Alternatively another method of adding videos is to drag and drop the file instead.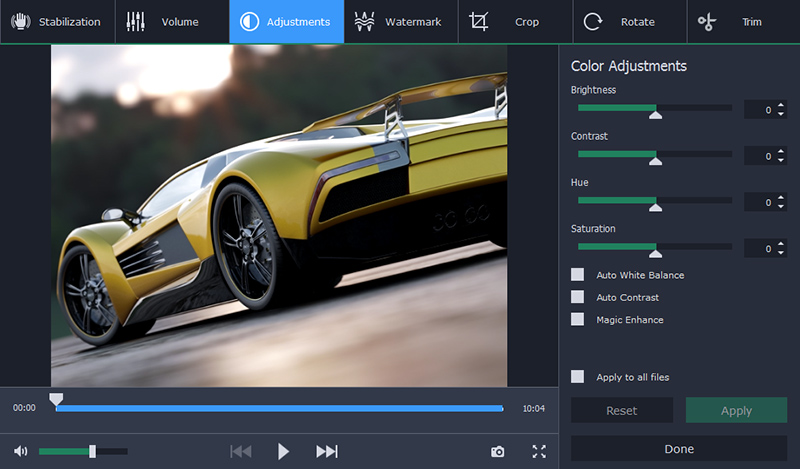 The next step you should take is to click on the 'Video' tab located in the bottom part of Movavi Video Converter's interface. Under that tab you'll be able to locate and select the format that you wish to convert your video to. For example to convert QuickTime to MP4 you should select one of the MP4 presets.
Instead of choosing a format outright, you could instead head over to the 'Devices' tab and select one of the presets under it. Each preset is tailored to a specific device or platform, and Movavi Video Converter will optimize the video format and settings accordingly.
At this point you can start converting your video if you choose, though you may want to check the destination folder and adjust any of the other video parameters before you do. It is worth noting that there are several other useful features in Movavi Video Converter that you can use to compress your video, create animated GIFs, grab screenshots, extract audio tracks, improve the video quality, cut and join video segments, add captions, and much more.
When you are ready you can click 'Convert' to start converting the video format. After the conversion is complete, Movavi Video Converter will save the video in the destination folder that was specified.
Odds are you should be starting to see just how easy it can be to convert videos from one format to another – with the help of Movavi Video Converter to facilitate the process. Suffice to say if you've ever thought about converting videos, it will provide you with the means to do so while ensuring you don't need to jump through any hoops to get the job done.