Trade shows offer a superb opportunity for the marketing team to present their brand, explain their solutions, establish relationships, and generate quality leads. The advantage trade shows have over other marketing strategies is that they give you access to a sizeable number of qualified leads in one place at one time. This can quickly turn cold prospects into hot leads by making use of a more direct and personal approach. Nevertheless, a simple presence at one of these events is not enough in generating leads. You will, thus, need to develop a strategy before heading to one.
Use Incentives
Incentives such as quality conference giveaways, or other similar branded products, will go a long way towards landing leads. People are reticent to give away their contact information, especially if there is nothing of immediate value to be gained. These products don't need to be too expensive or flashy, but they do need to be of high-quality. From the time you hand them over to the time you contact the recipient, these giveaways will be acting as your brand advocate.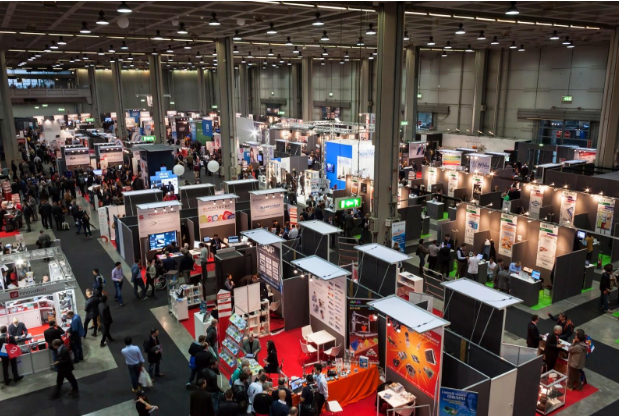 Image Source: Shutterstock
Choosing the Right Trade Shows
Though lucrative in terms of lead generation, trade shows are expensive affairs. Between the exhibitor fees, booth costs, flights, hotel rooms and other expenses, you need to make sure that the trade shows you decide to join will generate positive ROI. Make sure to do your research into the kinds of people who will attend, what they're interests are, and what attendance rates those particular trade shows had in the past. Make sure that it is an investment worth making.
Less is More
Enormous trade shows, though appealing and usually packed with people, don't automatically imply a high ROI. Their size may cause attendees to become disoriented and overwhelmed by the large number of booths, presentations, workshops, and crowds present at these events. With small and medium-sized shows, however, you can engage people more meaningfully, increasing the chances that they'll remember you by the time they get home.
Attract Interest with Social Media
Whatever trade show you end up attending, it is crucial that you make use of social media to draw attention to your stand or any events you may be hosting. You can also use various social media platforms to broadcast highlights and allow visitors to use it while they're there. In fact, 78% of trade show attendees said that social media is a useful tool to keep track of spontaneous show moments, as well as a channel through which people can experience the various activities. Over 50% said that social media also helped to bring people to their booth and generate 30% more leads. Unsurprisingly, Twitter is the most useful at these events, followed by LinkedIn, and Instagram. Don't forget the hashtags!
Visit Other Booths
With all the work that revolves around managing a stall during a trade show, the last thing on your mind would be to visit other booths. Nevertheless, it can be a valuable tactic that may generate some great leads. Do not shy away from introducing yourself to potential clients or channel partners. You can even do it while you go to eat or when grabbing a quick cup of coffee. Taking a walk around the exhibition hall can also give you some insight into how other businesses design their booths and what methods they are using to attract leads.
When attending industry conferences, make sure that everyone part of the team knows what their role will be within the overall lead-gathering strategy. Though they can be expensive, if done right, trade shows can offer a great ROI.