Being a food business in today's economy goes in hand with these two concepts either you own the facility or you are renting for the kitchen space. The idea of moving to a new kitchen space is overwhelming and exciting yet also very detail-oriented thus you need to get most of the things right off the bat. Before renting kitchen space for your food business there are some considerations you need to keep in mind and in this article we are going to take a look at some of the questions you need to ask. 
7 Questions to Ask Before Renting Kitchen Space For Your Food Business
What amenities/equipment are available?
The success of any food business is determined by the equipment they have. With many rental kitchens in the market, they include amenities for the rental package to make your experience nicer, it is important to the equipment available. This depends on your line of food business and the equipment vary from kitchen rentals, it is important to never assume that certain amenities are included in your package. The common area should be a key point to focus on to avoid any disagreements with other businesses on the same premises. Among the wide range of equipment shared among many rental kitchens are meat slicers, food processors, blenders, fryers and many more. It is key to check that the amenities provided for use are of the state of the art.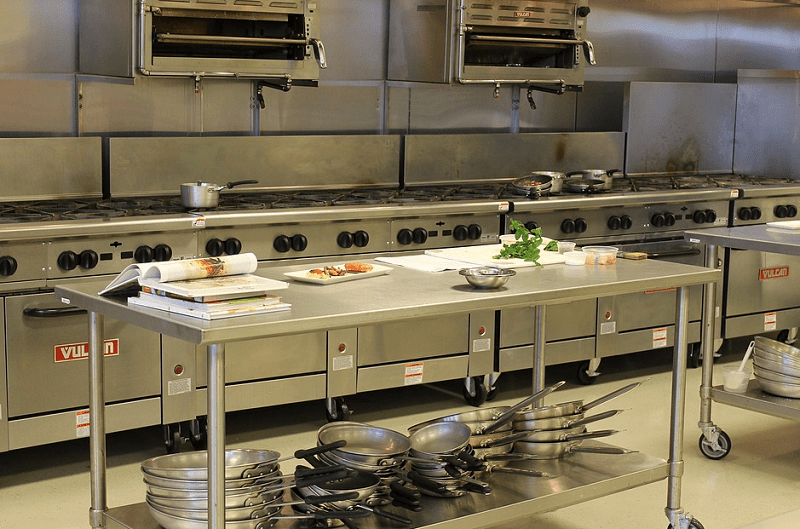 Image: https://pixabay.com/photos/kitchen-industrial-kitchen-1159532/  
Is it safe?
Safety first! For those in the foodservice business working at odd hours is a norm and therefore it is important to ensure the safety of your personnel and equipment. To ensure you do not run into losses you should check whether there are security cameras in the building and nearby areas and if they record footage 24/7. Also, safe parking is an area to highlight and a well-lit facility too.  
What is the cost of renting the facility?
How much money you are going to pay for the rent should be the first question to ask. Though it is dependent on space, time and equipment it should fit in your budget. For this crucial step you need to ask everything there is about your payment, including are there any specials or discounts, the day the rent is due and when do you start paying rent. After enquiring all about the price ranges meticulously weigh in the pros and cons of each rental facility and consider the costs. Also before committing to a rental service check around and exhaust all the possible options.  
Are there any additional services to help run your operation?
A good kitchen rental service always has a company store with the basic items such as cookware, spoons, etc, and this saves money and time. To help the success of your food business can the facility refer you to resources and other added benefits such as kitchen permits. If these services are included in the rental fee then it better because it will pay off eventually. 
Are cleaning and disposal facilities available?
The facility you are renting space from should be on top of the list when it comes to cleanliness and sanitary. It is key that the facility should be on the safe side of health scores from the necessary authorities most especially the local Dept. of Health. To bode well for your food business you should consider starting in a facility with a good health score. 
What type of lease is offered?
Flexibility is a key aspect to confirm with and since your business always comes first it is crucial to ensure they are flexible enough to meet your business needs. Whether it is extra time, more privacy or even special equipment, be sure to sign a lease that has your foodservice business at heart. 
Who manages the facility?
The person managing and running the facility is a crucial point to think about. How much are they experienced to help tackle concerns with the Health Department? A knowledgeable management team can solve any problem before it grows out of proportion, also organization is a key point to check with them. HACCP records are equally important and what is their record in keeping and maintaining these records. Check how they carry themselves as this will ensure it times of misunderstanding that everything will be controlled and the business will operate normally. 
Final Thoughts
It is important to ask the right questions before renting a kitchen space since they will go a long way to determine the success of your food business. With Occupyd they have got you covered with kitchen space to rent available on terms that best suit you. For more information on our kitchen spaces for rent, please contact us today.