Restaurants are some of the riskier small businesses to launch because of the various costs associated with running a restaurant successfully. Restaurants come with built-in expenses that other businesses often lack, like extensive amounts of large equipment, various types of insurance and permits, a relatively large staff and food inventory. Most banks and lenders label restaurants as high risk because of the complexity of food service and the relatively high amounts of outgoing cash. 
Still, plenty of restaurants strike a balance between costs and income to find success. If your dream is to open a restaurant, you need to know more about what your startup costs will be like — and how you'll continue to spend your money as your restaurant flourishes. 
Administrative Costs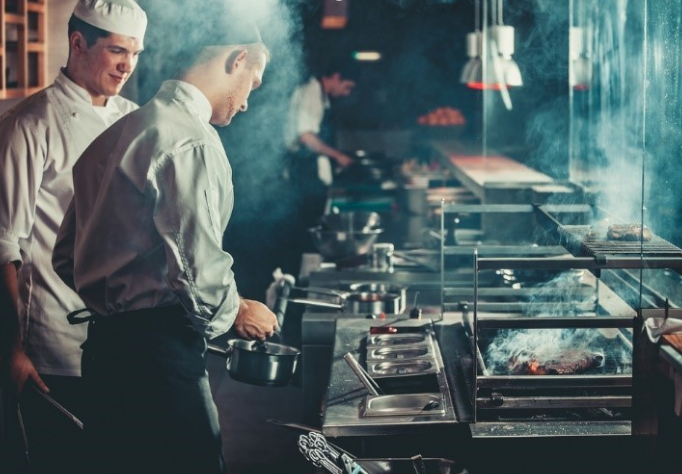 Around the same time you are considering your restaurant's name, you should be taking care of administrative issues, like creating a legal business entity, paying taxes, acquiring proper permits and licenses and more. It's not uncommon to pay a few hundred dollars in fees simply to incorporate with your state, and it is wise to work with an attorney during this process to prevent costly mistakes. However, using attorneys will add legal fees to your budget. 
Food service is a heavily regulated industry — for good reason. As a result, you will need to acquire a few different types of permits and licenses before you open your doors. The exact licenses you'll need, and how much they will cost, will vary depending on your state, but typically, you will need to pursue these: 
Food service license

 

Health permits

 

Food handling permits

 

Liquor license

 

Alcohol tax permit

 

Music license

 

Sign permit

 
Rent and Renovations
Though some entrepreneurs can take advantage of home office space at the very beginning of their business, the same is definitely not true of restauranteurs. Not only does your home not have enough space to accommodate both your restaurant staff and your paying guests, but most city zoning laws forbid the operation of a restaurant from a residence.  
Thus, you will need to rent commercial space for your restaurant, and it is more than likely that you will need to renovate your space to suit your restaurant's brand. Securing a restaurant space requires a security deposit, which could cost between $2,000 and $12,000, depending on the location and size of your space. Your monthly rent and utilitypayments will also vary, so you should research standard rates in your area before building your budget. When it comes to renovations, you should expect to pay a minimum of $5,000 for bare-bones changes to paint, flooring and window treatments, but you could easily shell out $50,000 or more for high-end upgrades. 
Equipment and Inventory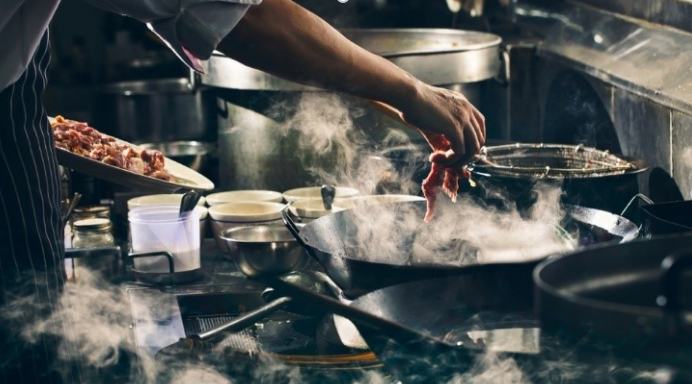 If you are moving into an established restaurant space with an existing commercial kitchen that suits your needs, you are exceedingly lucky. More often, restauranteurs need to either fully outfit their kitchens with brand-new appliances and equipment or make substantial repairs, updates and additions. The average cost of kitchen equipment exceeds $115,000, so this will inevitably constitute a major portion of your budget. 
In any case, you should take the time to make informed decisions with regards to your commercial kitchen, getting to know the brands of various appliances to ensure that you are investing wisely for your restaurant's future. Similarly, you should have a relationship with a knowledgeable kitchen maintenance service as well as a trustworthy parts supplier; you don't want a mix up with your Garland stove parts that puts your kitchen out of commission.  
One critical element of your restaurant's equipment is its point of sale system, or POS. Many businesses, especially those operating solely in the ecommerce sphere, can get away with POS software, but you will need a bevy of devices to manage orders and receive payments. Again, the costs you incur from your POS will depend on your vendor and the size and scope of your restaurant, but it's typical for initial POS investment to start at around $600. When choosing a POS system, you want one that will meet all your restaurant needs which might include inventory, sales reports, and other vital features. You can find a solution with POS software and implement the best option for your restaurant. 
Insurance 
Any functional business needs insurance, but restaurants especially require specific types of insuranceto protect the valuables within the kitchen, the staff and the customers in the dining room. It's common for restaurants to pay over $6,000 per year in insurance, but that ongoing expense is well worth the protection provided. If you aren't certain what types of insurance to pursue, consider this list: 
Restaurant insurance

 

Product liability

 

Liquor liability

 

Worker's compensation policies

 

Loss of income insurance

 
It's not easy to run a business, but if you are organized and forward-thinking, you can be successful in the food service industry. By researching costs and expenses in your area, you can build a better budget and avoid risky financial mistakes in your budding restaurant, all but guaranteeing success.