Are you in the process of kickstarting your company and turning your idea into a reality? Are you looking for tips and tricks on how to successfully begin that process? If so, then you need a startup checklist that you can follow along the way. 
Doing so will give you a point of reference as you knock out each item. Starting a company involves a lot of moving parts, but having a "cheat sheet" of sorts can lessen the stress of it all. 
See below for an extensive startup checklist that includes all the essentials you need to have before you start this process. 
1. Create a Business Plan
Before you start your company, you have to have a strategic plan in place for how you'll go about the entire process. How are you going to turn that idea into a well-oiled, revenue-generating machine? 
It's always a helpful business practice to begin this process by creating a business plan. This allows you to take all of your ideas and start to apply them all towards an actual business plan. 
Consider it the point in which your idea actually gets fleshed out into a legitimate business proposal. This isn't a brainstorming exercise, it's a way to present your ideas to others. 
Business plans are extremely essential for those of you that are looking for funding from investors down the line. Before they give you money, they want to see an organized plan of attack. 
To create a business plan, start out by including things like an executive summary, marketing analysis, description of the company, staff outline, and financial projections for your products/services. 
You can add other components as you see fit, but at least those will give you a good starting point. Be sure to create your business plan as if you're presenting it to someone else. What vital information do they need to know about your company off the top?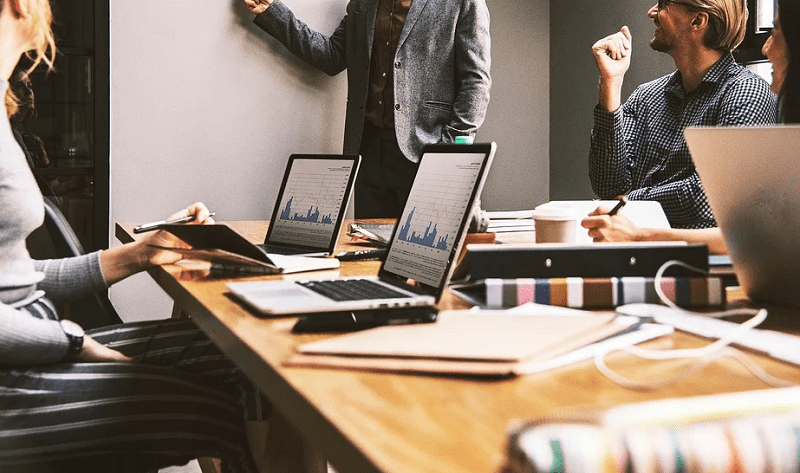 2. Gather Funding for Your Business
Now that you've created your business plan, you've undoubtedly noticed the financial gaps that need to be filled. 
Some wait to save up enough money to start their business, but that might take too long. Someone else might steal your idea before you have the necessary savings to kickstart your company. 
For that reason, you'll need to find other ways of funding your business. This could be done by receiving bank loans, finding an angel investor, trading equity, or finding venture capital investors, just to name a few. 
While there are several options out there, not all of them are for you. Some of them involve sacrificing control of your company while other require you to pay back a loan in time. 
Which one is the right path for your small business? That's for you to decide. Consider which funding options you're most comfortable with. 
For example, if you're interested in getting funded by a venture capitalist, then find one that you have chemistry with. They'll be getting an equity stake in the company, so you want to make sure you two see as eye-to-eye as possible. 
3. Get the Details in Order
To become an official company, there are a few details that you'll need to work out about the business. These will dictate things moving forward. 
First things first, you need a company name. For some, you may already have one. Others of you might not have a title just yet. 
Regardless, make sure the name you choose hints towards the services/products that you provide. Also, you'll want to make sure that your company name isn't already being used. Otherwise, you could receive a cease-and-desist requiring you to change it. 
Next, you need to decide where your business will operate. What will be the location of your company's headquarters?  
It doesn't matter whether you're starting a physical store or a fully-online company, your location will play a part in taxes, federal and state regulations you need to follow, distribution, costs, profitability, and so on. 
Also, make sure to decide on a business structure. You're legally required to do this in to determine how to properly file your taxes. 
You can choose from such structures as sole proprietorships, corporations, partnerships, limited liability companies (LLCs), or S corporations. 
Last but not least, take the time to open up a bank account for your business. This will ensure that you never cross your personal finances with your company's and vice versa.  
Having a business bank account can keep your records organized for tax season, help you find the best credit cards for your company's situation, and build a business relationship with the bank you open the account through. 
4. Registration and Certification
Once you have all of the details about your business sorted out, you need to register it to become a legal and official small business.  
Registering your company will give security to your company and prevent anyone else from using your name or the brand that you build around it. Make sure to register with both the federal government, as well as your state's local government to cover all bases. 
Once registered, you want to make sure and get an employer identification number (EIN) for your company. 
This is essential for almost all the paperwork that your company needs to do such as filing your taxes, paying those taxes, applying for loans, and so forth. Double-check to see if your state legally requires you to have a tax ID as well. 
Lastly, you need to properly certify your company with all essential licensing and permits for your industry. 
For example, if you're opening up a restaurant, you need things like an EIN (check!), liquor license, health inspection, application forms, and so on. 
Do your research to ensure you have all proper licenses and permits before opening your doors. You can reach out to a local business attorney or your city's local court to get more direction on this part of the process. 
5. Equip Your Business
Now that all of the paperwork and financing is out of the way, it's time to equip your business with the right tools for success. What things do you need for your company to hit the ground running and start generating revenue right away? 
First, you'll need laptops for you and all other members of your staff. Be sure to shop for affordable laptops to meet your budget. 
Next, you'll need to invest in things like a wireless router, sales collateral, cloud storage, pens, notepads, and so on. 
You also need to invest in a company website, a customer relations management system, a POS system, financing software, Microsoft Office, and so on. Some of these aren't necessary right away, so be sure to consider your company's business structure. 
Lastly, you should look into purchasing some company swag for your staff. Thinks like polos, backpacks, fitness clothing, and coffee mugs can be a great way to provide a walking billboard for your entire company. 
6. Build Your Online Presence
Whether you're creating a brick-and-mortar store, fully-online company, or somewhere in the middle, you need to build an online presence. 
That all starts with creating a company website. Your site will act as the central nucleus of your digital marketing plan. You can build product pages, start a blog to build SEO, tell your brand's story, and so on. 
After the site, you need to consider which social media outlets that you'll use to reach out to your target market. Consider platforms such as Facebook, LinkedIn, Instagram, Twitter, and so on. 
The platform(s) that you should pick should depend on your sales goals. For example, if you're strictly focused on B2B sales, then you should hone-in on building a LinkedIn presence.  
Take things slowly. Start with one platform and focus all your efforts on connecting and interacting with target customers on it. 
Don't stress out if you don't consider yourself a marketing guru. As your company grows, you can work on building your presence on other outlets. Facebook features the highest number of active users, so it's always a great starting point. 
Follow This Startup Checklist to Build Your Business
Now that you've seen an effective startup checklist in order to build your business, it's time to start following it step for step. 
Start by performing some marketing research on your idea. Is your company idea viable? Is there an audience out there looking for your product or service? What are their biggest pain points? Where can they be found? 
Be sure to browse our website for more articles on how to build your business, as well as many other helpful topics that you'll be interested in.