A brand partnership is a strategic marketing method that allows two or more businesses to benefit from one another's audiences and grow. Partnering with another business can be a great way to help build buzz around your brand and help spread awareness. However, many small businesses take the "do it all myself" approach to getting a business off the ground and miss out on some valuable opportunities.
There are plenty of hidden benefits, too. For instance, not only are you doubling your reach, but you're doubling your marketing budget and power, too. In this situation, two businesses are putting forth the effort to promote a co-branded campaign, which pushes you twice as far. After all, marketing and advertising can be a costly endeavors. And when you're able to increase your marketing spend, you can greatly increase your return on investment, too. Here's how you can partner with a business to propel your business forward:
Find the Right Partner
The success of your partnership will of course largely depend on who the partner is. One of the first things you'll need to realize is that your partner doesn't have to be in the same industry, and shouldn't be a direct competitor, either. Instead, you want to focus on working with a company that offers complementary services.
For example, let's say you own an ecommerce business that sells organic baby clothes. A good partnership would be with an organic baby diaper company that doesn't add any chemicals to their diapers. Or, if you were a real estate agent, you might partner with an interior designer who could offer staging tips for sellers and re-decorating tips for buyers.
You should also take a look at successful co-branding partnerships to get an idea of how bigger brands are implementing this type of strategy. For example, high-end furniture company West Elm partnered with high-end mattress company, Casper. This mutually beneficial partnership allowed West Elm to show the premium mattresses on beautiful beds that customers could picture themselves in.
Similarly, Uber partnered with Spotify to create the ultimate soundtrack for every type of rider. With this partnership, a rider could connect their Spotify account with participating vehicles and become their own DJ for during the duration of their trip.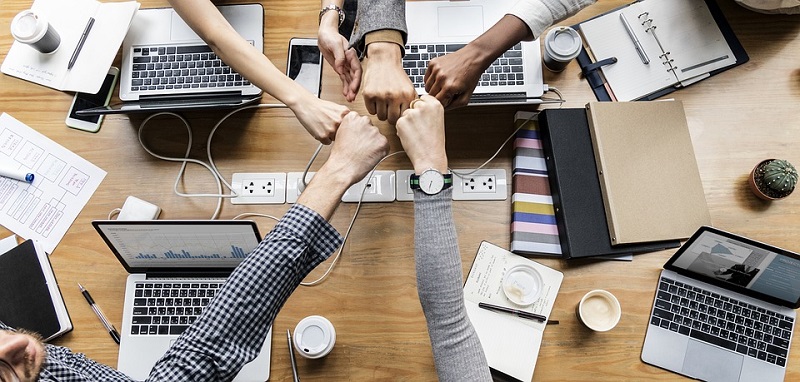 https://pixabay.com/en/achievement-agreement-business-3408115/
Decide on Mutual Benefits
Before you begin pitching potential partners, you should start to map out how both parties can actually benefit from working together. It helps to do your research to make it clear that you know about the brand and care for their message and business too, not just your own.
Give them a couple ideas and strategic points to work off of, and invite them to submit some ideas of their own. Keep in mind that, if this is your first time partnering with a brand, you should try and keep it local. This way, you can meet in person and but a face to another.
For instance, if you own a local coffee shop, you might partner with a local bakery or farm who can supply local ingredients—in this case, this provides added exposure for that bakery, and allows your coffee shop to provide great locally produced baked goods and food.
Create a Social Strategy Together
They say two heads are better than one, and this is especially true when it comes to strategy. Once you've decided on the ideal partner, arrange a meeting to discuss how you'll work together to promote the partnership across your collective social channels. Brainstorm the best hashtags for your campaign, decide on digital marketing materials, and discuss any potential influencer marketing ideas you may have. You'll also want to clearly outline who is responsible for what, and that all parties are putting in equal time and effort.
Promote On Both Websites
So, you've chosen the perfect partner and have worked together to create a social media plan that aligns with both your goals. Great. Now it's time to promote your partnership on your website, too. This may involve altering your style and theme to create a landing page and/or promotional page that fits both brands' aesthetics. As you alter your site to accommodate for your partner's brand messaging, too, it's best to install a child theme before you make any permanent changes.
"There are some protocols you should follow before you dive under the hood," says hosting company DreamHost. "Otherwise, your customizations may not work as intended.That's where child themes come to the rescue. They're a WordPress feature enabling you to customize your themes safely and keep all your tweaks organized."