Are you looking for reliable machine shop services? Well, CNC machines have undoubtedly replaced manual machinery operation, owing to their innovative technology, thus providing business owners with a much faster and more precise manufacturing process.  
Instead of investing in CNC equipment, you can hire a CNC machining provider, such as Zero Hour Parts – Machine Shop, providing an extensive range of timely and effective services. These professionals possess the required expertise, experience, and skills to operate such machinery and provide on-time delivery.  
Hiring such services will not only provide you with high-quality products but increase your brand awareness and improve customer retention.  
These are the most important benefits of hiring professional machine shop assistance.  

Customized services
One of the major benefits of using rapid prototyping services is the opportunity to be provided with customized products. Customization is essential in terms of being different than the competition, by offering unique products to the clients.   
Moreover, these professionals are capable of manufacturing an extensive variety of parts, whose size and shape matches your business project requirements. They use up-to-date CNC equipment, which is equipped with the latest software for performing precise drilling, milling, and machining services. Make sure you hire a machine shop whose machinery uses the newest software in the CNC industry, as it's the only way for the provider to meet your specific requirements.  
High precision
Another crucial benefit of hiring machine shop services is providing clients with excellent precision during the manufacturing process. CNC equipment is known to be incredibly accurate, with minimal risk of error while performing the assigned operations.  
Once the technician enters the right product specifications, the machinery is in charge of the manufacturing process, which is entirely automated. In the course of the process, the machine performs repeated cuts whose accuracy is much greater than the one of manual machining. Click here to learn more about the precision and features of CNC machines.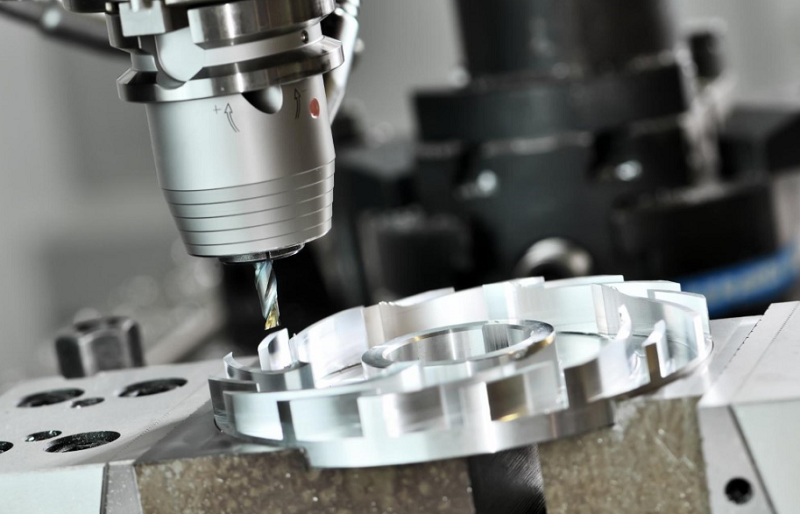 Incredible speed
Rapid prototyping services have become amazingly popular due to the incredible speed of manufacturing, enabling customers to have their products delivered within a week. The duration of the production process is determined by the type of material and the diameter of the machine part. The smaller the diameter the shorter the timeframe of manufacturing the part. For instance, ordering a part with a diameter of fewer than four inches would require no more than four hours to be completed.  
Furthermore, in most cases, reputable machine shops deliver the ordered parts to clients within a 24-hour period. Naturally, ordering a large number of parts would take the company longer to complete the manufacturing process and deliver them to your address. Make sure the provider offers an on-time delivery guarantee in order to get your order at the arranged date. Some companies have invested in tracking systems, thus enabling customers to keep track of their orders.  
Guaranteed quality
Apart from offering fast services, reputable machine shops are known for manufacturing high-quality parts. These technicians are equipped with the necessary knowledge and skills to operate CNC machinery and perform minor alterations to product designs in order to comply with industry standards.  
In addition, most companies have special machinery for checking the quality of the manufactured parts, as it's the only way to inspect the precision of the ordered goods. Clients get digital reports of the quality control inspection, which shows whether the products meet the exact requirements. Don't place your trust in the hands of companies that lack such equipment, as you can't be sure of the quality of the manufactured parts.  
Customer retention
Another incredibly useful advantage of hiring machine shop services is customer retention, which is an indispensable aspect of every business. Collaborating with a machine shop that offers fast and effective services automatically benefits your business reputation, as your clients will also be satisfied with the product quality and delivery.  
Bear in mind that on-time delivery and consistent quality are crucial factors that affect customer retention. These aspects improve clients' confidence and encourage them to become your loyal customers. Consequently, this kind of consistent output increases brand awareness, thus opening a new world of business growth opportunities.  
Reduced material waste
The precision of CNC machinery considerably reduces material waste, which is extremely common in the process of human machining. Due to the high possibility of human error, a lot of material is wasted in the course of manual machining, which automatically increases material costs.  
On the other hand, CNC machines are amazingly precise from the start to the completion of the manufacturing process. As a result, material wastage is minimized, along with the costs for purchasing new materials. Also, machine shops tend to purchase the materials in bulk, thus saving you another portion of your budget.  
Better workflow
Improved workflow is yet another benefit of using machining services, as engineers will no longer be required to waste their time on performing minor design changes. Instead, they will finally be able to employ their skills and devote their time to developing a better product.  
On the other hand, machine shop technicians are knowledgeable enough to make minor design alterations, abiding by the required industry standards. As long as the technicians are experts in their field of work, your employees can stay focused on other more important aspects of your business.  
Excellent convenience
Hiring prototyping services provides businesses with incredible convenience in terms of exploring niche markets. These services are rather flexible in the course of the product development phase, enabling business owners to check the demand for their potential products.  
Moreover, in case their research proves that there is enough demand in the market, machine shop professionals can easily shift to manufacturing a much larger number of parts. Consequently, you will be provided with the opportunity to explore various markets without worrying about the product development process.  
Bottom line
Hiring such services is unquestionably a worthwhile investment for businesses in need of CNC precision.  
Improve your workflow while increasing your brand awareness!