People think that running a restaurant or cafe is easy, but making a profit in the food business can be anything but. Your profit margins can be so small that even small mistakes can cost you.
Check out our guide below to make sure you avoid these common problems.
Hygiene
Firstly it is very important that you catering business takes cleaning very seriously. Nobody wants to eat from somewhere that doesn't look clean.  In a worst-case scenario, a lack of cleanliness can lead to animal infestation and food poisoning.
Obviously, every food retailer is going to want to avoid this, so make sure there is a daily, weekly, and monthly schedule in place for cleaning your commercial kitchen equipment. This will not only avoid a gross mess, but it will also help to keep your equipment in good condition. It's also vital that someone in the business checks that this is observed on a regular basis. You also need to make sure that your business conforms to your country's or state's legislation for hygiene.
Visible Preparation
Having a visible food preparation and cooking area has become something of a fashion in modern times. With Yo Sushi! being a prime example and it can make for an entertaining experience for your guests.
However if your establishment isn't designed to have the cooking areas on show, keep doors to the kitchen closed. This will make a more pleasant experience for your diners, who are unlikely to want to see into the noisy, hot kitchen. It also makes it easier for your staff, who may not be used to being observed by the customers in this way.
Menus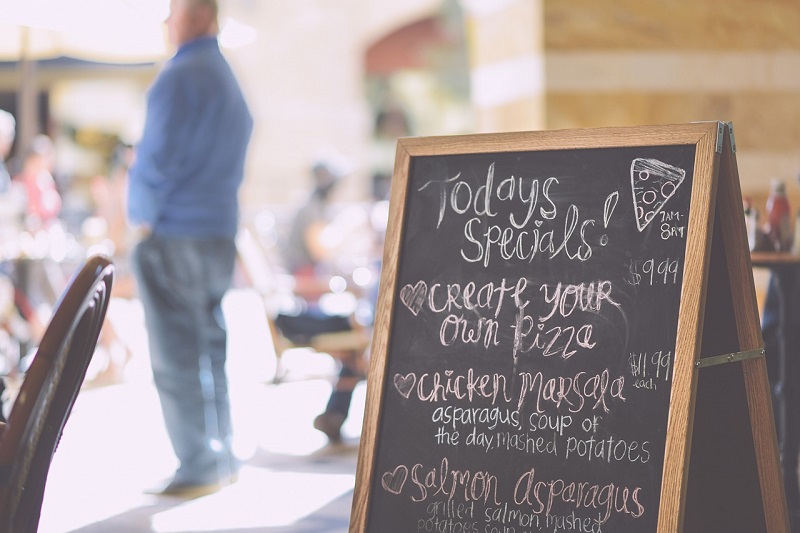 Menus are essential items for any catering business, and you cannot do without them. The menu should be selective. Think quality over quantity here.
Customers would much rather see a small range of well-cooked meals, made from high quality ingredients than 50 or 60 meals that are just OK.
Also, the menu itself should be specifically branded for your establishment. Using cushioned menu displays looks old fashioned and dated. They can also look shabby and unclean, so get a custom menu printing service to do something more modern and streamlined.
Not Knowing Your Margins
It's imperative that the person in charge is aware not only of the retail prices of the products but also the cost of the supplies that you need to make them.  By estimating production costs, you can lose valuable profits because you're not adding enough of a margin onto the final price.
Get the person that orders the ingredients to sit down with the person that sets the front of house prices, to make sure they correlate correctly.
Not Valuing Your Staff
Working in the catering industry is hard physical and mental work, and wages are not always the best. Therefore it's important that your employees feel valued and appreciated.
Do this by thanking them, rewarding them where possible, and being reasonable with them. This will save you money in the long run because it will give you a higher staff retention rate.