The novel coronavirus has affected everyone. For many, it has meant substantial time away from the workplace. What can you expect when returning to work? Changes, and many of them. Some of those changes may take longer to implement than others, but things will not be the same. You will likely experience one or more of these five workplace adjustments when you return. 
1. Physical changes and enhancements
In recent years, the trend in office configuration has been to remove the cubicle walls and embrace an open and collaborative workspace. Employees, for the most part, have found this to be distracting and unproductive. But personal feelings aside, this type of seating arrangement has become a danger, as it could easily enable the spread of the highly contagious coronavirus. 
Another trend that is not favorable at this time is any type of flexible workspace, such as desk sharing, hot-desking, or hoteling, which results in multiple workers using a single physical work area. 
Physical alterations are essential in most workplaces. By being aware of the options for safeguarding your office, you can help help your employer speed up the process. For example, they may be looking for a sneeze guard to be placed between each desk or other protective panels to avoid the transmission of germs. Do your homework before returning to work and you can be a part of the solution. 
Other necessary physical changes are the actual spacing of desks further apart, if possible, or the return of high-walled cubicles. Ideally, bathrooms will be reconfigured to be a single user only. Air vents and circulation will be updated and kept clean. A couple of great additions to any office would be sinks on wheels, making soap and hot water readily available, and overhead UV lights to disinfect surfaces overnight. 
Hand sanitizer, masks, and antibacterial wipes must be accessible by all employees, both in common areas and at their desks. Cleanable, transparent films should be placed on surfaces that many people touch, such as microwaves or elevators. 
As noted earlier, some of these updates will take time but, in the long run, will prove their worth. 
2. Teleworking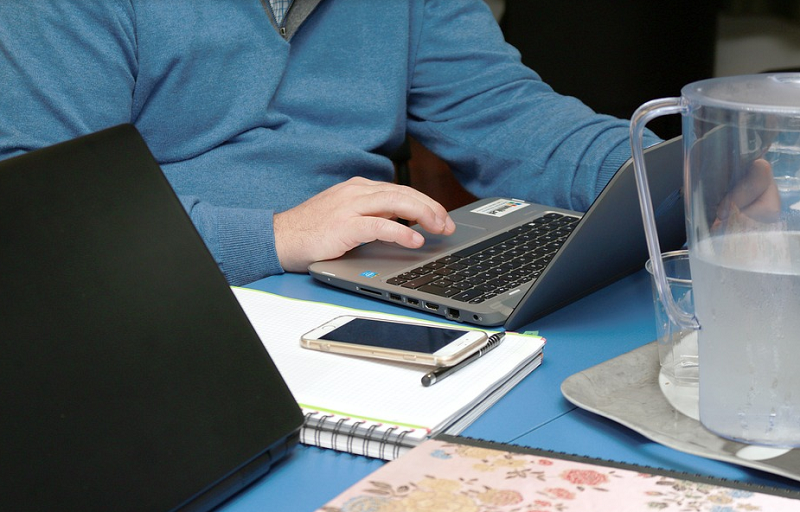 The best solution to over-crowded or flexible workspaces is teleworking. The Telework Enhancement Act of 2010 presented the concept of telework to the working community and has proven to be a viable alternative in this time of coronavirus. An employee is authorized to perform their duties from a site other than the office space. Teleworking is also referred to as telecommuting but is not the same as working when on official travel. 
When the Act was passed, little did they know how important teleworking would become to society in 2020. Many medical leaders have stressed to employers the importance of allowing people to telework for long periods. 
Teleworking is not easy, though, and requires more discipline and focus than if you were actually in an office. 
A few suggestions for successful teleworking include: 
Establish a workspace with minimal distractions and maximum privacy. Make it as comfortable as possible, as you will be there for many hours each day.

 

Become familiar with your computer's video and audio functions for online meetings. It is wise to do this before you are about to attend your first virtual appointment.

 

Set a schedule and stick to it. Keep to your morning ritual—shower, dress, eat—and then sign in to your computer at the same time you would if you were in the office. Set goals for each day, track your progress, and share the results with your supervisor. Keeping yourself disciplined will show positive results and will factor into the decision of whether you are allowed to continue teleworking.

 

Keep in touch with your co-workers and leadership.

 

If your children are home, whether for school vacation or distance learning, enlist a trusted family member or friend to stay with them to prevent interruptions to your workday.

 
3. On-site personnel
Teleworking is not always an option, so other avenues for employee protection need to be explored, particularly those deemed "essential." One suggestion is increasing operations to 24/7 to accommodate staggered shifts of fewer people and other creatively flexed time. 
In the past, employees were discouraged from using sick leave unless they were truly sick in bed. Mental health days were not always appreciated, and many companies stopped awarding sick leave. Employees were given a set amount of annual leave to use for any reason, including sickness. How many times did a co-worker of yours show up with a terrible cold because they did not want to use up their valuable annual leave? Too many to count. 
Since the onset of the coronavirus, companies are not only giving sick leave to their employees, but many are taking temperatures at the building entrance. If the employee is running a fever, they are sent home before even entering. Providing sick leave for employees has been proven to reduce the motivation to work while sick or to return too soon. 
Employees that do enter their workplace are required to wear masks in common areas and, often, at their desks, depending on the spacing situation. Physically socializing at the coffee machine is discouraged as are in-person meetings. As much business as possible is handled virtually. 
You will also likely see an increase in cleaning and sanitizing in your workplace. This is for everyone's health and safety. 
4. Touch-free technology
A large part of the new normal in your office is touch-free technology. Door handles will soon become a thing of the past. Technology can be programmed so the building recognizes you as you approach and the doors and elevators automatically open. 
Door handles will be obsolete. The building will know where you are and open doors and call elevators as you approach. The bathrooms should be equipped with touchless hand soap and towel dispensers. 
Voice-enabled devices are not a new concept but, due to the coronavirus outbreak, are being fast-tracked for use in businesses, hospitals, and government spaces. 
5. Interpersonal interaction
Many people thrive on the personal interaction they receive at work. The physical accommodations previously discussed are not going to give the employees that personal touch they are looking for. It is just the opposite—people are being separated from each other, and any type of personal contact is discouraged. No longer can you shake hands with your boss when you get a raise or hug your friend in the next department when you see each other in the hall. 
Teleworking takes this lack of personal contact to another level. Communication via virtual meetings or discussions makes it difficult to discern non-verbal cues and body language. People who need human interaction to get through their day will become anxious and less productive in this new environment. 
These are just a few of the changes you can expect when you return to work. You are responsible for your health and safety, though, so if you see something in the workplace that needs to be modified or upgraded, speak up. Your employer will appreciate it.