Every business owner who sells products will need to think about logistics at some point in the future. There are lots of ways you can get your items to where they need to be.
It's just that you need to work out which solution provides the best value for money. The ideas listed below will come in handy as your company grows.
Once you are sending thousands of products every day, you'll probably end up using all of them. Until that time, one or more of the options below should be suitable.
At the end of the day, you just want a fast and safe means of transit for your goods.
Courier services
During the early days of your business, it probably made sense to use a local courier service to deliver your products. Most small courier businesses subcontract to larger companies.
So, you can still send your items nationwide without too much hassle. It's wise to strike a deal with the courier that allows you to save money on large shipments.
That would be good news for your business finances.
Maybe you can convince them to give you a 10% discount if you're sending more than fifty items each day?
Any savings should be gratefully accepted. When all's said and done, you want to spend as little as possible.
Train transport
There are lots of trains running in this country that simply take deliveries from A to B.
In most instances; you can send goods commercially using that method by contacting the postal service in your home country.
There should be lots of private companies that offer the same service too. You just need to search online to see who offers the best deals.
There is no point in paying more for the services than is necessary.
Delivery by sea
Most of the same companies can also handle international deliveries by sea. However, some larger companies choose to deal with the matter themselves.
You can buy 2nd hand offshore vessels for less than you might think. Presuming there is enough cash in your business, maybe it's worth the investment.
Of course, that would open you up to lots of other issues that you need to cover. You're going to require a crew for the ships and the appropriate insurance.
However, it could make sense to pay for all that if you're sending thousands of items every day.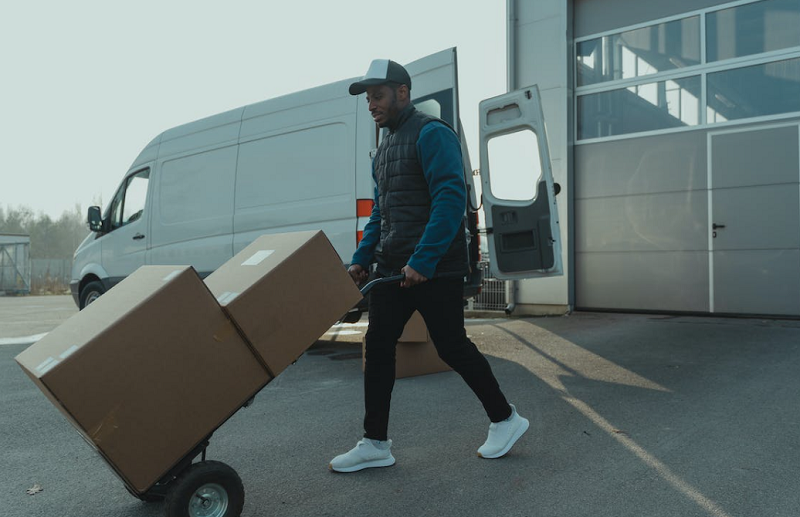 Drone Delivery
In recent years, drone delivery has become an increasingly popular way of transporting goods quickly and cost-effectively. Drones are often used for short-distance deliveries, such as carrying small items like documents, packages, and medical supplies over a certain distance. However, they can also be used to transport larger items with more complex logistics.
Drone delivery has numerous advantages over traditional shipping methods, such as being faster and more eco-friendly. Not to mention that they are also cheaper since they require fewer personnel and materials in comparison to other transport options. Additionally, drones can be used to deliver goods even in remote areas or during adverse weather conditions, making them an ideal choice for businesses looking to provide fast and reliable delivery services.
Overall, drone delivery is a great way to transport goods quickly and cost-effectively. However, it's important to ensure that the drones you use are up-to-date with safety regulations and industry standards.
Also, since drones are relatively new technology, businesses should consider investing in experienced personnel who are familiar with the technology and can ensure that deliveries are made safely. With the right precautions, drone delivery has the potential to revolutionize your business' shipping operations.
Air Freight
Air freight is a great option for transporting goods over long distances, as it's often faster than other forms of transportation. It is also the most secure form of transportation, as goods are usually transported in pressurized containers on an aircraft, meaning they aren't open to the elements or exposed to security risks during transit.
However, air freight can be quite expensive when compared to other methods, so it's important to consider all your options before deciding which method you want to use for transporting goods.
Additionally, when shipping by air freight you may need to take into account additional costs that can arise from taxes and customs duties. To ensure a smooth process it's best practice to find out what these charges are upfront and factor them into your budgeting plans.
Overall air freight is a great option for businesses who require quick international delivery, but the cost and additional paperwork can be a barrier for those who don't have experience with international shipping.
Therefore, it's important to do your research before deciding if air freight is the right option for you. If you decide that air freight is the best choice for your business then make sure you partner with an experienced shipper who can help you navigate through any potential issues or delays.
Doing so will ensure that your goods arrive safely and on time.  It's also worth understanding the regulations associated with transporting goods by air freight as this could affect what type of items are allowed to be shipped in certain countries. Having this knowledge ahead of time can save your business from costly delays or fines due to non-compliance.  By taking the time to research air freight and any other potential transport options, you'll be sure to find the best solution for shipping your goods quickly and cost-effectively.
Final Words
Now you know how to deliver items all over the world, growing your business should be easy.
It's all about putting the right measures in place at the perfect time. Make sure you do some research and create a strategy moving forward.
Your customers aren't going to be happy if it takes a couple of weeks to receive their goods.
You need to make sure all deliveries are made within a few days.
Featured image: Credit