Photographs are a way to savor every moment for a lifetime. And if the special occasion is your wedding, photos will be like a treasured keepsake to reminisce your special moments: 
The vows

 

The kiss

 

The dance 

 
Isn't it? 
Undoubtedly, a wedding photographer is the one who takes care of all such moments that eventually becomes a part of some cherishing memories. So, understanding every aspect around capturing moments is vital before heading onto building a full-fledged business.   
It means you must have a checklist of "what you expect" and "what you want" to become a successful wedding photographer. We are not talking about marketing your business or having the capital to start it.  
Being a creative field that runs on "word of mouth," it will take time to get an initial kickstart. So, here are some of the elements that you must keep in mind before legally registering your business. 
Decide on the Type of Photography Style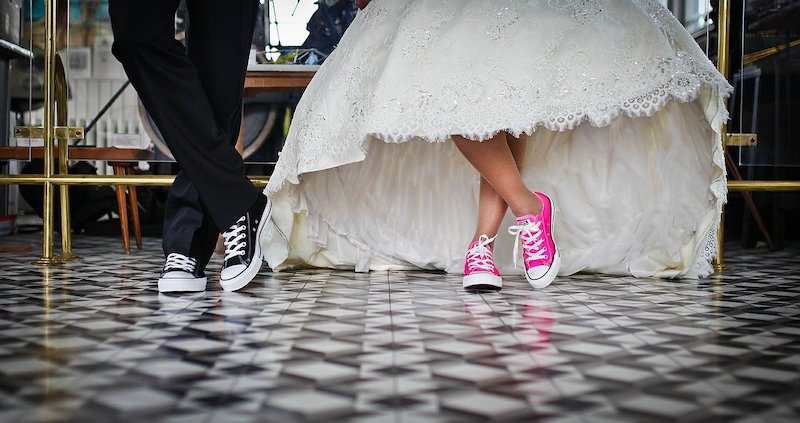 Wedding photography is not about clicking pictures randomly. It's more about telling a story. You must understand the technicalities of digital photography and styles and special interests. Only then you can narrow down on the theme of a dream wedding.  
If you have no idea where to start, you can take help from Instagram, Google searches, and see what suits your taste. That way you can easily help your clients who are unable to narrow down to one style. Plus, you must have the expertise to blend styles. Otherwise, you can never expand your reach.  
And that might hinder your ability to grow your business.  
Budget Considerations
Usually, packages range from $2,500 to $15,000 that can even go beyond if clients look for something unique. But before going on to deciding the standard package, you must determine the type of service offerings you can offer.   
For instance, prices change depending on the work hours a client demands. Furthermore, the number of photographers changes depending on the size of your wedding. It's better to understand all these minute details before publishing your packages.  
Look for the market trends on the type of packages offered. And as per your capabilities, move ahead to create a suitable package as a part of your service offerings.  
Understanding About Business Purchases
Of course, buying photography equipment is of utmost importance. But there are chances where you can get stuck in a never-ending cycle of buying things in the name of "business necessities." All this can be incredibly crippling. Or else you will end up wasting enough money on things that you don't even need.  
For instance, a lot of photographers end up buying expensive gear for images they could have easily developed using their current kits. You must think twice before pulling out the credit card. Precisely why experienced photographers suggest those who are just starting their journey to manage their expenses carefully. 
Keep an Eye on Every Aspect 
Wedding photography is not about clicking pictures alone. You must keep a check on different factors before saying "yes" to any client. Remember, a single bad review or feedback can easily topple your business in today's digital age.  
So, make sure to upgrade your skills consistently and keep on reading what's trending to grab every opportunity that knocks on your door.  
Create Favorable Contract Terms
Once everything is in line as per your expectations, the last and the most critical step is to create a contract that's favorable to you and your business. You must know that photographers own the rights to the photos taken at the wedding.  
So, including terms like using only watermarked pictures online is critical for your business. It's simple every project you take is unique for you and your clients. For them, it's about reliving memories. For you, it's about creating a portfolio that you can showcase on your website or social media channels. 
It's no brainer that the photography business is all about branding. If you ignore your branding, you will have to work even harder for client acquisitions. So, it's essential to prepare the contract thoroughly, keeping in mind all the crucial aspects.  
People Skills 
Photography is a people's business. So, you can never underestimate the element of "bonding" when it comes to becoming a wedding photographer. Any friction there will make your client's D-day even more overwhelming than it already is.  
Remember, you will be like a shadow to the couple and their guests during weddings. If you are not comfortable with people, your photos will show such emotions clearly. So, you must have the following skills to become a successful wedding photographer.  
Creative with a keen understanding of culture

An eye for detail

Patient and flexible in your approach
Not only that, make sure if you are starting the business with someone, they have similar skills. This goes without saying that the right person makes people comfortable during the wedding.   
In short, your focus must be on being a person who cares about the wedding as much as you care about your wedding photography business.  
To Sum it Up
We often associate weddings with the phrase "Happily Ever After." And wedding photographs are perfect snapshots of living that moment again and again. It must tell a story right from behind-the-scenes to final goodbyes. Only the right person behind the camera will make it a point to preserve your special moments.  
So, you must imbibe all the right skills to establish yourself as a famous wedding photographer. Additionally, you must develop a second source of income if you live at a place where you can't shoot round the clock. That way, you can keep your income flowing without affecting your primary business.   
Furthermore, it would be best if you: 
Study services offered in different packages

Have an idea about the type of equipment

Create some policies regarding guests taking pictures

 
Remember, a simple mistake on the D-day can completely change the focus of wedding moments from "I can't wait to see the photos again" to "don't feel like showing it again."