The best and most productive offices work like clockwork. They manage everything efficiently, and all equipment has its personal space.
The key to building a successful business is an office environment where people can thrive. And that all starts by filling it full of essential tools and equipment. If you're getting your business off the ground, you'll need to budget some of your startup funds to cover the costs. But, bear in mind that they are essential purchases.
Once in place, your business will begin to flourish. Your employees will have access to everything they need. They can execute their job with efficiency and without problems.
Remember, a streamlined office makes for a profitable business. Let's take a closer look at the 12 essentials for every productive business office.
1. Office furniture
The first basic essentials are your office chairs and desks. Now, this may seem like a simple place to start, but many factors are involved here.
First, consider how you'd like to set out your office.
Is an open plan layout the best way to unlock productivity?
Or do you think individual office rooms would inspire a better work ethic?
It's up to you to make the right choice and choose the furniture correctly. You should also give some thought to the health factors and ergonomics involved in office furniture. The chairs, in particular, should provide good support for your employees.
2. Broadband and telephone connection
Most modern offices come with super fast broadband and a business telephone connection. However, always double-check the rental agreement before you set up a new space.
You'll need sufficient speed and bandwidth to handle the global business demands. As for the telephone connections, we suggest using a VoIP line.
This is an internet-based communication system that is fast becoming commonplace in modern offices.
3. Printers and copiers
Although many offices are now aiming to go green and eliminate paper, a printer is still essential.
There are many instances where hard copies are required, and it's always better to print crucial documents.
As for copiers, they're essential for quick duplicates. It's worth investing in a business printer. That should handle just about any office task you can throw at it.
4. Computers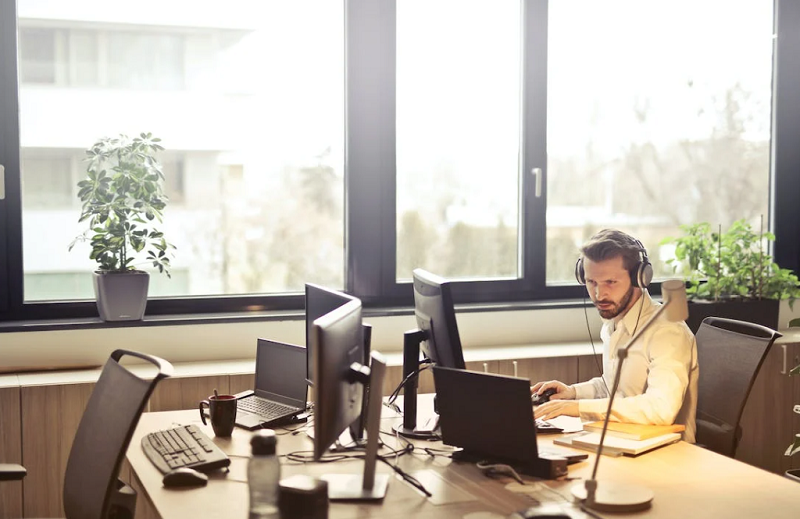 You won't get far in modern business without a series of good computers. Ideally, you should provide a machine for each and every employee on site.
We also suggest investing in a number of computers with additional processing power and software. They can be used for specific tasks like photo editing and other high-processing tasks.
5. Filing cabinets
There are all sorts of digital data storage solutions available these days. However, there's still something very secure about storing hard copies in a safe filing cabinet.
A good office should have a simple filing system. That way, employees can quickly and easily access data and information at a glance.
6. A modern server system
Every productive office needs a reliable and secure server system. It should be able to handle lots of data, such as customer information and online transactions.
To ensure that your business is running as smoothly as possible, it's important to have a good system in place that can store and manage all your data.
7. Security system
In today's world, it's essential that your business is equipped with a comprehensive security system. This includes CCTV cameras, motion sensors, and access control systems.
Setting up a reliable security system will help to protect your premises and staff members, as well as keep confidential information secure.
8. Lighting
Good lighting is essential to improve the mood in an office environment.
Opt for bright, natural light where possible, and consider adding desk lamps or task lights if needed.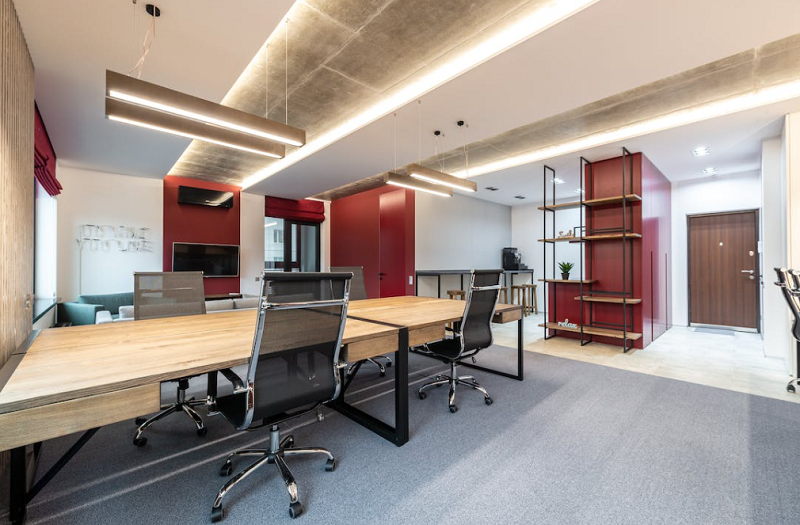 9. Air conditioning system
Having air conditioning in an office is essential for both comfort and productivity.
During warmer months, air conditioning ensures that the workspace remains comfortable for employees, allowing them to stay focused on their work.
Air conditioning also helps to remove unpleasant odors from the office, and filters out allergens and dust particles.
10. Breakout areas
It's important to create a comfortable environment for your employees in the office.
Breakout areas are the perfect way to do this, providing a space where staff can take a break, enjoy some snacks and chat with colleagues.
These spaces do not have to be large or costly, but they should be comfortable and cozy. With a few chairs, beanbags and a coffee machine, you'll create a great place for your employees to relax and unwind.
11. Office plants
Office plants are essential for improving air quality in the workspace. They purify and humidify the air, making it more comfortable for everyone in the office.
In addition to this, plants add a certain charm and character to office space, helping to create an inviting atmosphere. Plus, they look great!
12. Coffee machine
Treat your employees to a coffee machine.
A few quick cups of coffee can help to improve concentration and productivity, meaning better results in the long run. Having a coffee machine in the office is also great for morale, as it creates an opportunity for social interactions and breaks from work.
Not only will your staff be more productive with regular caffeine boosts, they'll also appreciate the gesture!
Conclusion
That should be plenty of equipment and assets to get you started!
With these elements in place, you can create an inviting and modern workspace that will help to improve the productivity of your business.
And as you expand, you can add more along the way. Good luck with your new venture!
Featured image source