Moving into your first home or selling your current one is a significant event in life. A new house generally implies a move, a clean start, and, most importantly, some new fashionable furniture.
It might appear to be a daunting prospect to need to furnish a new home. This is because there's likely to be a lot of space you'll need to fill. Whether you're redecorating from the ground up, downsizing, or moving into a larger home, we figured we'd give you a hand. This post has all of our advice and methods for furnishing a new house.
Let us begin by addressing some of the most common blunders that homeowners make when furnishing a new construction property. Avoid these ones:
Don't Overfill. It doesn't matter if you have an entire new empty area to fill, cram, and arrange every nook and cranny right away. Begin with your investment pieces rather than purchasing everything at once (we'll get into this in more depth later), and then you may add any extra, non-essential stuff after that.
Don't trust your eye when it comes to measuring tape. When deciding on furniture, especially when purchasing online, this is never a good idea. Knowing your dimensions ahead of time is crucial to ensuring that your new sofa and coffee table will fit. On delivery day, you'll save yourself aggravation and stress by knowing your measurements thoroughly before placing an order.
Starting Off
Online shopping has grown increasingly popular and simple. That is why, when it comes to furnishing your new house, buying all of your furnishings at once should no longer be considered a costly extravagance. When it comes to the dining room, living room, and kitchen furnishings, there are a lot of options on the internet. Begin with one room at a time, rather than the entire house. You may then look online to see what shapes and styles catch your attention, or use a service like Shift IKEA delivery to get everything sorted in one go.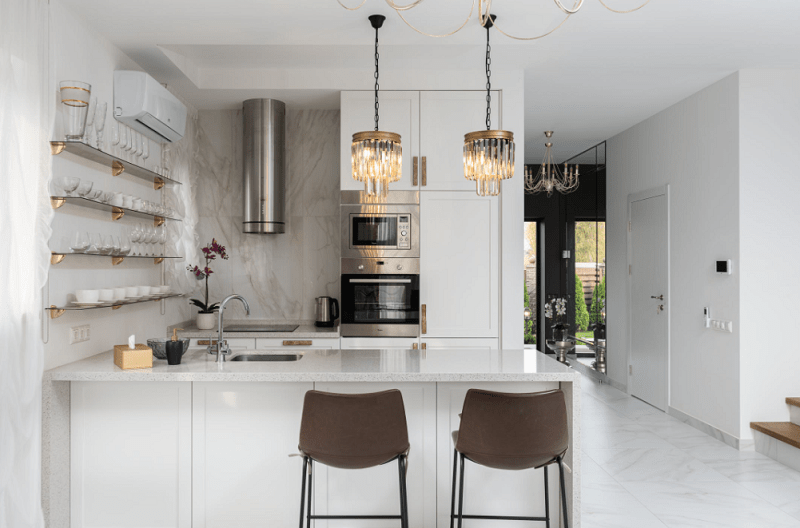 Measure Up
Know your area by measuring it, and if you haven't moved in yet, use the estate agent's floor plan to get a better sense of the room form and size of your new property. If the design of your new home differs significantly from your old one, you'll need to think about furniture that will suit your needs. If you've downsized, your present furniture may no longer be suitable. If you're starting from scratch, the furniture world is yours to explore! Online retailers may provide the furniture dimensions on their websites, and numerous helpful sizing charts are accessible.
Don't buy everything at once.
So you've found your ideal house, and you know which room is which. You've measured everything (including the door frames) now that it's done. It's easy to be swept up in the thrill of buying everything at once when you're prepared with all of the essentials. However, this is one furniture purchasing blunder to avoid while furnishing your new house. Buying everything at once is a significant financial investment. It will also take your attention away from each space. This is because you're considering many parts and designs throughout your home.