Has your business started to grow over the past few months? If it has, then you may consider moving into an office.
It's time to expand and hire more people, so they'll need a place to work.
Once you've found your office, you'll need to fit it with several things.
Below are a few of the most important items to have in your office!
Computers
You're going to need some desktop PCs for your office.
It's 2023, and that means that almost all your work will be done on a PC. Bearing that in mind, you'll need some that will be able to keep up with the work you do.
Your office computers need to be fast, so they don't slow you down and have sufficient memory. It's also wise to get some that can stand the test of time.
This means that in a year or two, they're still working and performing well. It helps you save money by not replacing PCs every year.
Printer
Depending on the size of your office, you'll need at least one printer. You're probably going to be printing stuff off every day, so you need a printer that can handle the workload.
Interestingly, if you sign up for a managed print service, you can end up saving money on your printing. This is something that goes hand in hand with your printer at work and can reduce costs and paper use.
Desks
You'll need to have something for your computers to rest on while you work. All offices need to have a load of desks for employees to work on. These desks must be big enough to fit a PC and keyboard on, but still, give you some extra space too.
You may need space on your desk to put a notepad on or to collect sheets of paper. Also, space under the desk is important too.
There needs to be enough room for your legs to fit comfortably. It's also a good idea to get a desk that has decent storage too.
This can be either a cupboard or a set of drawers, something that's good for storing stuff. If you can store your pens and office supplies in a drawer, it minimizes desk clutter.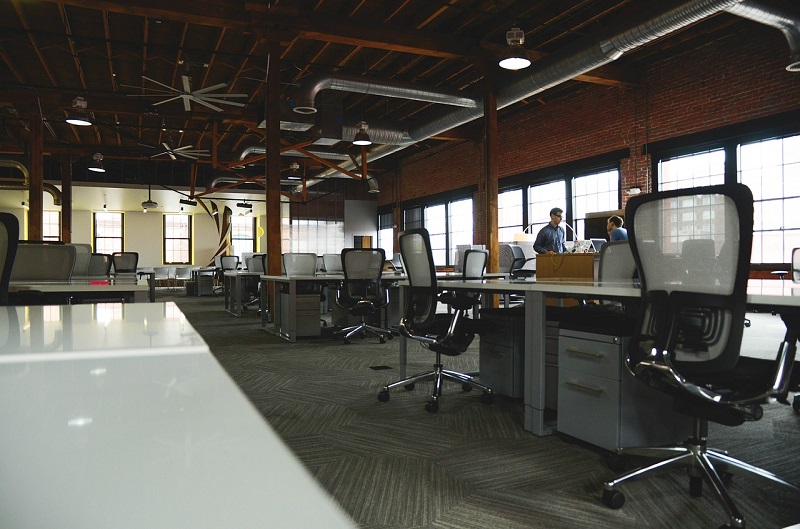 (Link to image: https://goo.gl/Tm9HPW)
Chairs
It's all very well having a desk, but you need somewhere to sit. You can't have a desk and then sit on the floor, to do work, it's not practical!
You'll need some sort of chair for people to sit on all day and work.
There are plenty of office chairs around; my tip would be to go for comfortable overlooks. Get a chair that's comfortable to sit in, as you'll be on it all day. Even if it looks weird and ugly if it feels nice to sit on, buy it!
A lot of physical problems stem from sitting on a bad chair at work all day. A poor office chair can lead to postural problems and back pain.
To combat this, make sure the chairs you buy are comfortable and good for posture.
Office Supplies
You're going to need stationery for your office. Things like pens, paper, staplers, and notepads are all essential items.
You'll be needing these things to help with paperwork and everyday tasks in the office. This is why it's important to get some good quality supplies that don't run out quickly.
You may also want to get some office furniture too; such as bookcases or cabinets. These are great for storing documents, files, and supplies in an organized manner.
You can even buy a few potted plants if you want the office to look nicer!
Lighting
Good lighting is essential in any office. Poor lighting can lead to tiredness, headaches, and eye strain.
You should make sure that you invest in good quality lighting fixtures, or even natural light if possible. If you're using energy-saving lightbulbs, make sure they are bright enough and not too dim.
Having the wrong type of light can be detrimental to your eyesight in the long run.
Final Words
When it comes to equipping your office, there are several things you need to think about. You must have the right computer systems and printer, as well as good quality desks and chairs. You also need some office supplies, such as pens and paper, as well as lighting fixtures.
All these items combined are necessary for your office to run smoothly. If you invest in the right equipment, it can save you money and time in the long run. Properly equipping your office is a great way to make sure that your employees are comfortable and productive.
Thank you for reading!
Good luck with finding the perfect equipment for your office!