Buying a dishwasher for your home is a serious and complicated investment. With all the choice available on the market, picking the right one for your budget, kitchen and needs can be an arduous balancing act.
Choosing the right dishwasher can not only save you time, but it can save you money and even add extra value onto your home. More and more homebuyers are prioritizing homes which have modern, fitted appliances such as dishwashers and trash compactors, so having one definitely pays off in the long-run.
If the convenience aspect alone is not enough to sway your decision, the added value should! There are hundreds of different dishwashers and brands out there, each producing machines which vary in size, efficiency and cost. Picking the best one is something which you need to get right, which is why we have researched three of the best available right now.
Considering more than just a dishwasher? Take a look at ConsumerCharts.com for many more home appliance reviews.
#1: Bosch 300 Series SHEM63W55N
Coming from reputable manufacturer Bosch, this dishwasher certainly gives you plenty of space for your money. The extra capacity which this dishwasher gives you on account of its surplus and additional racks enables you to place more dishes, pots and pans in it per cycle, meaning you need to run the dishwasher less allowing you to save money in the long-term.
The Bosch 300 Series also outputs a mere 44 decibels whilst it is running which is surprising, given how well and how rapidly this dishwasher eats through dirt and gets your load clean. Bosch dishwashers – and Bosch products in general – are renowned for their hardiness and cheap repair costs, a plus in our eyes.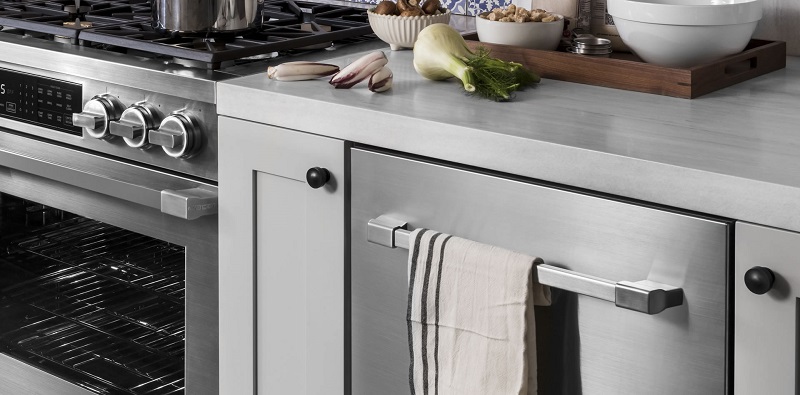 #2: KitchenAid KDTM354ESS
The KitchenAid is another quiet dishwasher which has a lot of space, is very easy to use and has multiple options for both washing and drying. The heat-dry option, for instance, is great for drying items made out of plastic and its deep racks are great at holding bulkier items such as saucepans and cereal bowls.
In addition to this, the KitchenAid has a self-cleaning filter and a unique power wash mode which blasts through burnt-on dirt and grime typically found in casserole dishes, for example. It is a very energy efficient model which has been awarded an Energy Star, but it is not quite as hard-wearing as the Bosch dishwasher above.
#3: Miele Classic Plus G4976SC
If you are willing to part with a little extra cash, the Miele Classic Plus is a great option. These dishwashers are known for being some of the sturdiest money can buy – more so than the Bosch dishwasher – and they have much longer lifespans.
This is the most affordable dishwasher in the Miele range and features lots of integrated controls, space, additional features and boasts a gorgeous stainless-steel finish which wouldn't look amiss in any modern kitchen. It is a very efficient machine which blasts through dishwashing cycles and dries them in next to no time.
A dishwasher has become something of a necessity for any modern home. They save time and money, add value to your property, and do so much more than just clean your dishes.